Faults SLPP for giving membership to Dilan Perera and S.B. Dissanayake
Says it undermines collation talks and prospects for SLPP presidential candidate
By Nuwan Senarathna

Sri Lanka Freedom Party (SLFP) General Secretary MP Dayasiri Jayasekara yesterday faulted the Sri Lanka Podujana Peramuna (SLPP) for recruiting its members, saying it created unwarranted tension between the two parties which were currently engaged in coalition talks ahead of the upcoming Presidential Elections.

SLFP National List Parliamentarians S.B Dissanayake and Dilan Perera obtained SLPP membership last week. Responding to the development the SLFP has decided to take disciplinary actions against the two MPs for leaving the party.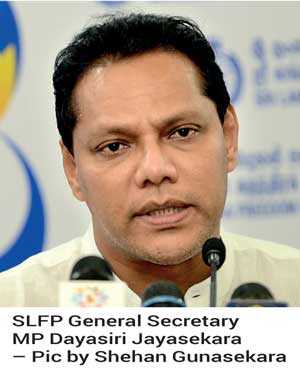 Speaking to media at the SLFP Head Office, Jayasekara said he strongly believed both parties should be neutral at the moment to give more space for coalition talks to proceed smoothly.

"This is a situation like a ceasefire. Both parties should not do anything that could affect negotiations. I firmly believe that the SLPP should not poach our members at a time like this. Such moves could be disadvantageous for talks between the two parties," Jayasekara said.

He said poaching SLFP members by the SLPP could be seen as an attempt to sabotage ongoing talks between two parties, which are currently at a positive stage. Jayasekara noted the grassroots level of the party questioned the purpose of continuing talks with the SLPP when it was also encouraging the SLFP members to defect.

"The SLFP has not done anything wrong. We are fully committed to continuing talks with the SLPP. The SLFP has not tried to poach any SLPP supporter even though some have asked to join the SLPP. We feel this is a conspiracy to defeat Gotabaya Rajapaksa within the SLPP, as a coalition with the SLFP will improve his chances of winning the Presidential Election."

Jayasekara said the SLFP was trying to back a program that would assure the victory of the SLPP presidential candidate Gotabaya Rajapaksa but enticing SLFP members away could damage those efforts. However, Jayasekara noted the SLPP was positive of forming a coalition with the SLFP, citing SLPP National Organiser Basil Rajapaksa's recent statement on his willingness to form the proposed coalition.

Meanwhile, SLFP Senior Deputy Chairman MP Nimal Siripala de Silva said the time had come for self-reflection for the members of the SLFP on the decision to form a National Government with the United National Party (UNP) after the victory of President Maithripala Sirisena in 2015.

He was adamant that the SLFP would not form any coalition with UNP under any circumstances and that the SLFP was fully committed to continuing talks with the SLPP to form the proposed coalition.