Says he is a party member, not having a WC position not an issue
---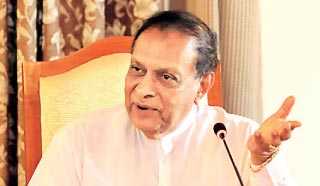 Former Speaker Karu Jayasuriya
---
Former Speaker Karu Jayasuriya yesterday responded to allegations made after he indicated his willingness to become the next leader of the embattled United National Party (UNP), insisting he holds party membership, and not being a Working Committee member was not a prohibition.

Issuing a press release, the veteran politician downplayed concerns regarding his eligibility to hold the leadership position due to his party membership status. "He has obtained the annual membership of the party on 21 August 2020, from the day he stepped down from the Constitutional Council, and is currently in possession of a valid membership for the year 2020," the statement read. Further, Jayasuriya pointed out that he holds a lifelong party membership under the 1000 member program that he and Party Leader Ranil Wickremesinghe initiated 20 years ago.

Jayasuriya argued that if the party was really concerned about leadership change, the fact that he is not a member of the Working Committee will not be an issue, pointing out that several legal experts who studied the Party Constitution have opined so. Jayasuriya pointed out that while carrying out duties as the Speaker of the Parliament, he did not hold the membership of any party, based on the principle that the office of the Speaker of Parliament should be kept independent.

The former Speaker questioned why such concerns and allegations were not raised in 2010 and 2015, when persons outside the party were allowed to be the party's Presidential candidate.

"Such allegations and concerns being raised now indicate that some are willing to push the party towards ruin, and go against the wishes of party members," he charged, pointing out that the public and party loyalists were aware of who was behind such selfish actions.