Ramanayake remanded until 29 Jan.
Risks loss of civic rights and imprisonment if found guilty


The Nugegoda Magistrates' Court yesterday directed the Commissioner of Prisons to produce United National Party (UNP) MP Ranjan Ramanayake before the Government Analyst for a voice analysis test.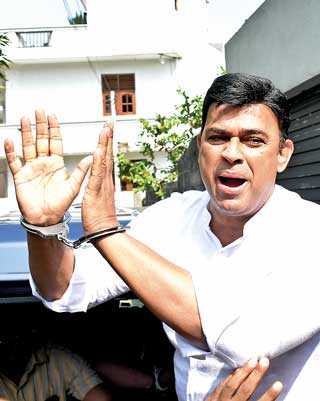 Ranjan Remand - pic by Ishan Sanjeewa
Ramanayake was arrested on a directive issued by the Attorney General on the grounds that he interfered with the exercise or performance of the judicial powers or functions of judges and was remanded until 29 January by the magistrates' court.

The MP was arrested due to purported leaked phone recordings of him influencing senior police and judicial figures and faces the loss of his civic rights and imprisonment if found guilty for offences under Article 111 C (2) of the Constitution.