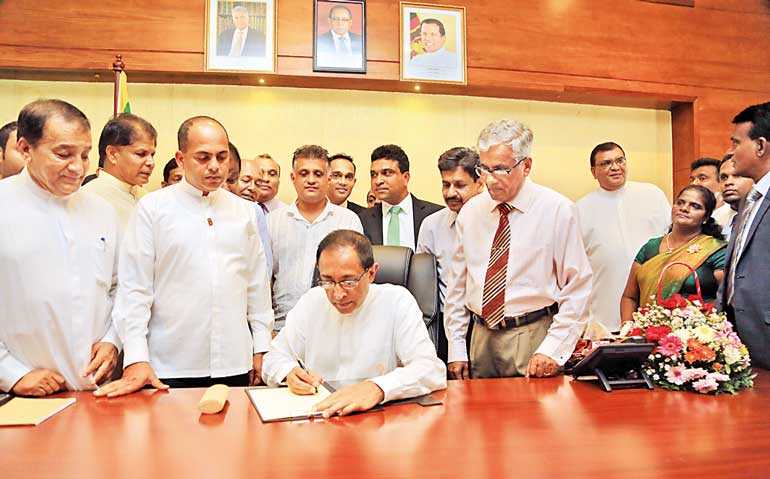 Minister assuming duties at the Ministry of Highways and Road Development at Maga Neguma Maha Madura at Battaramulla
---
"The document that is highly cherished by any nation or community is the constitution of one's land. We are honour bound to protect this sacred document since it determines the fortune and the destiny of any nation, United National Party Chairman and Minister of Highways Road Development and Petroleum Resources Kabir Hashim said.

The minister was addressing the gathering at the Ministry Highways and Road Development at Maga Neguma Maha Madura at Battaramulla after he assumed duties.

"We are justly proud that we were able to overwhelm the evil forces that were keen to suppress and negate our sacred constitution. The victory we have achieved will be hailed by all the right thinking masses of this noble land," the Minister said.

The staff of the Ministry and the Road Development Authority and the well wishers gave a rousing welcome to the newly appointed Minister. The members of the Parliament including Dr. Tusitha Wijemanne, Wijayapala Hettiarachchi, Nalin Bandara and the chairman and the members of the Mavanalla Pradeshiya Sabha were present. Addressing the gathering, the minister said: "All of us must walk forward for the development of the country. We should forget what had happened and work together to achieve the development goals. Rs. 2.5 trillion had been allocated for the rural road development work. Rural road network should be improved for the benefits of the children as well as the rural community."

The minister further said that over Rs. 280 million had been lost due to the wrong decisions and the people who took those wrong decisions were responsible for it.