BOI, UGC, Tertiary Education Authority and parties linked to venture summoned by COPE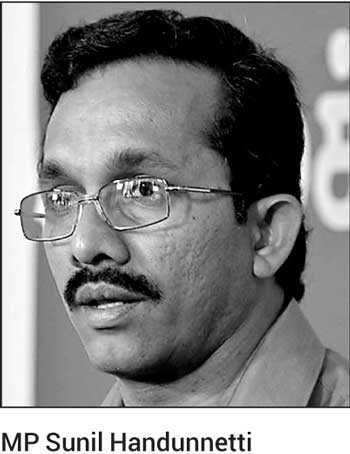 By Ashwin Hemmathagama – Our Lobby Correspondent
Committee on Public Enterprises (CoPE) has launched an investigation into the controversial Batticaloa Campus, which is reported to have controversial links to Eastern Province Governor M. Hizbullah.

CoPE Chairman JVP lawmaker Sunil Handunnetti told Parliament yesterday that all related parties pertaining to Batticaloa Campus Ltd. including the Board of Investment (BoI), University Grants Commission of Sri Lanka (UGC), and Tertiary Education Authority of Sri Lanka have been summoned before the Committee on 21 May."Making use of my authority I am summoning these people before CoPE. They were given 35 acres of land which belongs to the Mahaweli Authority based on a request of a farmer organisation by the name of Hira. The Chairman of the organisation is the Governor of the Eastern Province M.L.A.M. Hizbullah," he said.

MP Handunnetti charged the Government for approving the venture making use of political connections and being lured by monetary gains."I don't understand why Minister Lakshman Kiriella is hesitant to mention the name Hizbullah. Who authorised this? And not only the votes but it seems that this Government has made use of their money. That is why the Government is unable to make a decision. Giving Hizbullah this university is similar to assigning hens to a fox to look after," he said.Drawing the attention of the Parliament to attempts to cover up the investigations on the Campus, MP Handunnetti said: "Don't convert this controversial establishment into a State university or a tertiary education institution until the investigations conclude. We have learnt that the President is now trying to identify it as a private university and hand over the university to Hizbullah."

Meanwhile issuing a clarification about the campus, Leader of the House Lakshman Kiriella held the approval was given during the Rajapaksa Government.

"35 acres were given to Hira Foundation in 2013. Hira Foundation was registered in 2014. A letter was sent to MP Dr. Sarath Amunugama who was the Minister of Higher Education at that time requesting to accept it as a university. But this Government did not consider this request. So, this is still not a university and we all should work together to find a solution," he said.