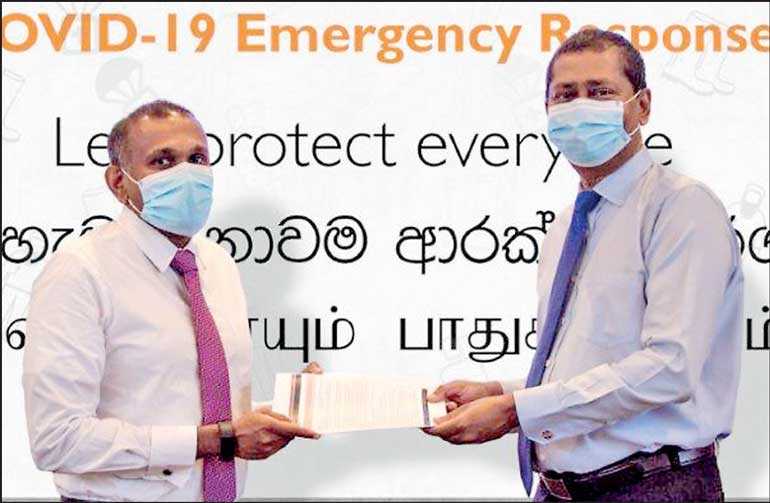 Citi Sri Lanka Country Officer Ravin Basnayake presented the

Citi contribution to National Director of World Vision Lanka

Dr Dhanan Senathirajah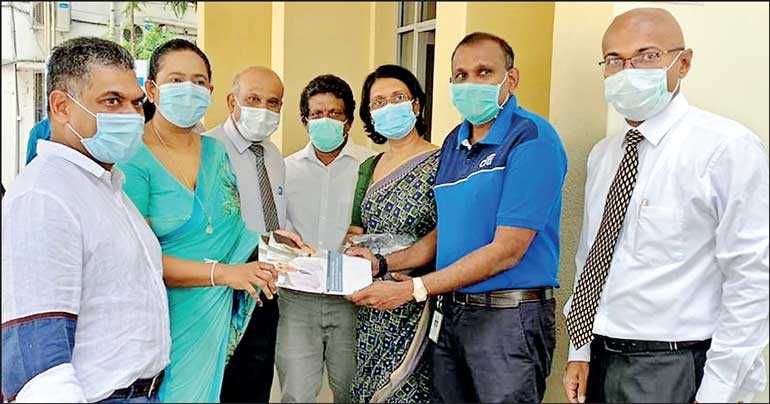 Citi Sri Lanka Country Officer Ravin Basnayake presents the Citi contribution to Minister of Health Pavithra Wanniarachchi at the Ministry premises. Ministry officials joined in at the presentation.
---
Aimed at assisting Sri Lanka's frontline healthcare community
Contributes towards sanitation, health and safety equipment
Over Rs. 30 million was contributed by Citi and Citi Foundation to assist the frontline healthcare community and vulnerable populations around Sri Lanka, supporting World Vision Lanka and the Rotary Club of Capital City in multiple projects aimed at combating COVID-19.

The contribution to World Vision Lanka will enable the supply and distribution of PPEs to frontline healthcare workers in 16 districts across Sri Lanka, provide ELISA antibody testing kits to the University of Sri Jayewardenepura and distribute hygiene and disinfectant supplies to marginalised populations located in high risk areas. A part of the funding will assist the COVID- 19 treatment centre at Kandakaduwa and provide medical equipment.

The Rotary Club of Capital City contribution was used to purchase critical medical equipment required to manage COVID-19 patients at the National Institute of Infectious Diseases (IDH). Laboratory equipment designed to automate processes was also installed to ensure safety of healthcare workers, in addition to PPEs and Test Kits presented to the Faculty of Medicine, University of Colombo. Reiterating that this contribution reinforces Citi's commitment to Sri Lanka and the wellbeing of the nation, Citi Sri Lanka Country Officer Ravin Basnayake said, "We are proud to partner World Vision Lanka and the Rotary Club of Capital City to assist in imperative infrastructure and equipment required for frontliners in Sri Lanka's fight against the pandemic. Being able to touch the lives of vulnerable communities and help in longer term initiatives to combat COVID-19 also adds to that strong commitment we have had since our inception in Sri Lanka over four decades ago." "Prevention is one of the key areas for World Vision in the COVID-19 Response and we have been continuously supporting the frontline health workers and communities with awareness on prevention and with necessary personal protective equipment," explained World Vision Lanka National Director Dr. Dhanan Senathirajah, "We are very excited that Citi partnered with us to support the health workers who are in some of the most rural areas and who struggle with lack of access to necessary protective equipment."

As of 20 April Citi and Citi Foundation pledged a commitment of over $ 65 million in support of COVID-19-related community relief efforts around the world. These efforts are aimed at delivering immediate relief to frontline workers and populations within impacted communities, supporting longer-term investments in programmes focused on economic recovery and financial stability via provision of PPEs, emergency supplies for low income families and support and resources for entrepreneurs and SMEs facing critical challenges. Citi also launched a new employee donation campaign called Double the Good. For every $ 1 donated by a Citi employee in support of COVID-19 relief, Citi donated $ 1 to one of four organisations selected by each of Citi's regions to address unique challenges: United Nations Development Programme (Asia Pacific), International Rescue Committee (Europe, Middle East and Africa), the International Organization for Migration (Latin America) and Direct Relief (North America). All donations between 1 January and 31 May were made eligible, and Citi to donate up to $ 500,000 to each organisation.