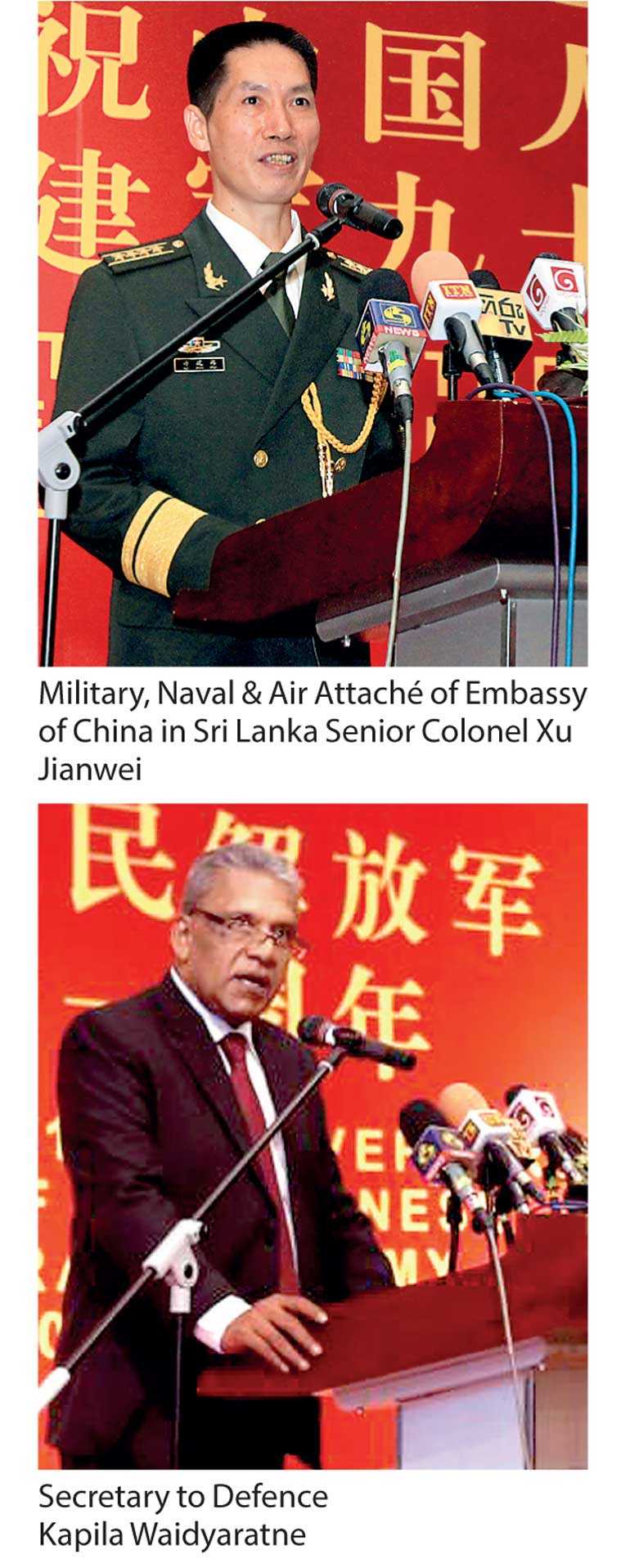 On 23 July, Senior Colonel Xu Jianwei ,Military, Naval & Air Attaché of Embassy of China in Sri Lanka, hosted a reception at the Shangri-La hotel to celebrate the 91st founding anniversary of the People's Liberation Army (PLA).

The Ambassador of China Cheng Xueyuan, former President Mahinda Rajapaksa, Ministers, high-level Military, Police and Government officials, members from diplomatic corps, friends from different fields, representatives of Chinese-invested companies and overseas Chinese altogether comprising 600 invitees attended the reception. Secretary to Defence Kapila Waidyaratne was the Guest of Honour.

Senior Colonel Xu addressed the reception. He reviewed the glorious 91 years of the PLA, and highlighted PLA's contribution to pursuing national independence, supporting national development and safeguarding world peace. He stressed that China adheres to an independent foreign policy of peace and development.

"Under the guidance of Xi Jinping's thought on diplomacy, the major-country diplomacy with Chinese characteristics will uphold the banner of building a community with a shared future for mankind and help make the global governance system fair and more reasonable. China's armed forces advocate a common, comprehensive, cooperative and sustainable security concept, and continue develop military to military relations that are non-aligned, non-confrontational and not directed against any third party. PLA will strive to establish fair and collective security mechanisms and military confidence-building measures, expand military and security cooperation, and create a security environment favourable to world peaceful development."

Xu indicated in his speech that the friendship between China and Sri Lanka had withstood the test of time and grown even stronger.

"Over the past decades, China has provided powerful support to the social-economic development and military and defence construction of Sri Lanka. China attaches great importance to improving relations with the Sri Lanka military. In the past few years, two militaries have witnessed the deepening communication and cooperation in the areas of personnel training, joint training, and maritime security, etc. This year, China will continue to provide various training courses to tri-forces officers, to complete building the Chinese-funded auditorium complex at the Sri Lanka Military Academy, to make preparations to hand over a gift frigate to Sri Lanka Navy. China is willing to enhance mutual strategic trust and is keen to see both countries continue supporting each other on issues of core interest. China wishes to boost the development of the Belt and Road initiative to strengthen the pragmatic cooperation between the two militaries."

Defence Secretary Waidyaratne expressed in his remarks warm congratulations to the PLA for its 91st anniversary. He said: "China has always been a valuable partner for Sri Lanka, the strategic partnership between two nations has extended to several areas ranging from economy, agriculture, science and technology, education and trade exchanges. China's assistance in providing military equipment, weapons, ammunition and technology to Sri Lanka indicates the success of the bilateral military relationship between two nations. The signing of the 'Strategic partnership of cooperation featuring sincere mutual support and long-lasting friendship' strengthened existing and future bilateral ties."

He also expressed a sincere wish for a bright future enhancing Sri Lanka's role to embrace the diverse benefits and prosperity that relations between the two countries would bring.

The reception was held in a warm and friendly atmosphere. The guests congratulated China on PLA's 91st anniversary and commended China's great achievements in the modernisation of its national defence and armed forces. They also applauded PLA's contribution to world peace, stability and prosperity. A documentary and pictures to introduce Chinese troops were played at the reception.