---
More than Rs. 2 b needed to settle cost from November's Presidential Poll
General Election could cost at least Rs. 5.5 b
President can draw funds to cover poll costs after Parliament is dissolved
Election expected in late April or early May, EC Chairman reveals
154 new parties have sought registration in addition to 70 registered parties
By Chandani Kirinde

The Election Commission is cash-strapped, with nearly Rs. 2 billion needed to pay public officials and settle bills relating to last November's Presidential Election, while the department will need at least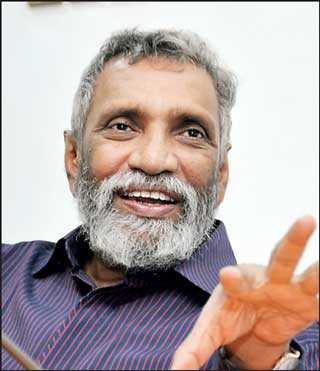 Elections Commission Chairman Mahinda Deshapriya - Pix by Lasantha Kumara
another Rs. 5.5 billion for the upcoming General Election slated for late April, Election Commission Chairman Mahinda Deshapriya said yesterday.

The National Election Commission had sought Rs. 3 billion to be allocated to the department from last October's Vote on Account (VoA) but was allocated Rs. 1 billion, which was to cover some of the costs of the Presidential Election but fell short of the required amount.

"Teachers in the Mahiyanganaya area have sent a petition saying that they have not been paid while officials who were on election duty from the Colombo District Secretariat too have not been paid. There is also money to be paid to the Ceylon Electricity Board (CEB) for the costs incurred for electricity supply to counting centres," Deshapriya told reporters yesterday.

He said that the final costs of the Presidential Election 2019 could be around Rs. 5.5 billion, a little lower than projected.

"We managed to save money by using cardboard boxes and hence the cost incurred is lower than we expected," he said.

Deshapriya said no one could be blamed for the shortage of funds as it was anticipated that the Budget would be passed in Parliament in February or March but due to the delay in introducing the Budget, they had to manage with the amount allocated by the VoA.

He said that the General Election was projected to cost around Rs. 5.5 billion but this could increase if a large number of political parties decided to contest the poll.

"If there are 10-15 parties and independent groups contesting, we can manage with this amount but if 30-40 decide to contest, the cost will go up to even Rs. 6.5 billion or Rs. 7 billion," he said.

The EC Chairman said that after Parliament was dissolved, the President was constitutionally empowered to draw money from the Consolidated Fund for urgent requirements such as an election.

He added that the EC had no powers to stop political parties or independent groups from contesting an election as it was their democratic right to do so but it was necessary for elections to be amended in such a manner that parties that contested but failed to secure even 1% of the vote could be deregistered. He said a Parliamentary Select Committee should be appointed after the General Election to formulate electoral reforms so as to introduce election financing laws as well as increase the deposit paid to contest elections.

Deshapriya said if President Gotabaya Rajapaksa dissolved Parliament on 2 March, as was widely expected, the election had to be held 52-66 days after that date.

He said elections were likely in the last week of April or first week of May but it was the President's prerogative to decide the date.

"We have informed him of the days that are feasible, and he will decide on the date. We have to be mindful that there are many holidays in April due to the New Year. There is also the first anniversary of the Easter Sunday terror attacks, while the Vesak holiday falls on 7 May," he said.

He also revealed that 154 new political parties had sought registration, but their applications were yet to be processed.

"The commission has to meet and decide if they are eligible to be registered. This may or may not happen before the General Election," he said.

There are presently 70 registered political parties.