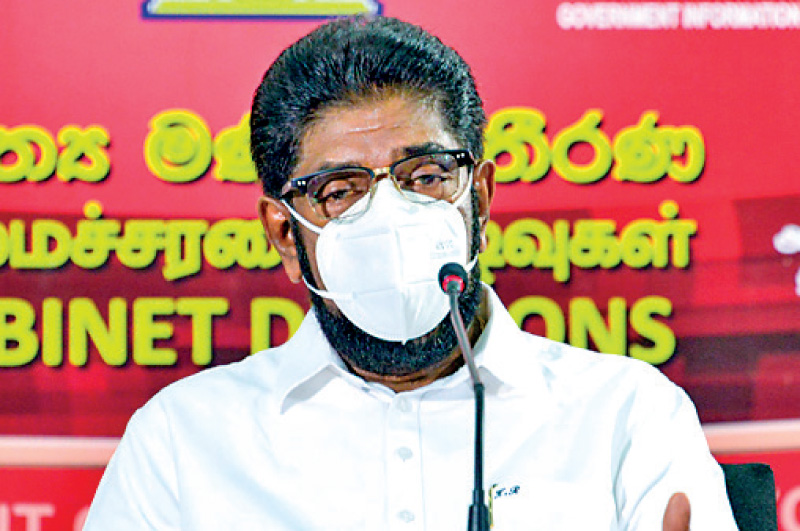 Cabinet Co-Spokesman Minister Keheliya Rambukwella
---
Original wage hike demand by principals and teachers to cost Rs. 70 b: Keheliya
---
The Cabinet of Ministers at its meeting on Monday appointed a four-member committee to recommend a mutually agreeable solution to the salary anomalies faced by school principals and teachers by next week.

The committee consists of Ministers Wimal Weerawansa, Dullas Alahapperuma, Mahindananda Amaraweera and Prasanna Ranatunga.

The four ministers are tasked to submit a report deriving from the B.C. Perera and Subodhini committees which can be mutually agreed upon as a solution.

"The report of the committee will be first presented to the Finance Minister Basil Rajapaksa on Monday (16 August), since resolution to the issue will cost the Government Rs. 60-70 billion. The final decision will be taken on the same day at the Cabinet meeting," Co-Cabinet Spokesman Minister Keheliya Rambukwella said yesterday.

He said education sector salaries accounts for 10% of the Government's wages.

School teachers and principals have been on strike for close to a month over salary anomalies that successive Governments have failed to resolve. Daily protests in different parts organised by education sector unions attracted large crowds of teachers. However, with the rapidly spreading delta variant and country's COVID-19 death toll exceeding 5,000 mark, the unions recently called off some of the protests.

"As a responsible Government we are concerned about the grievances faced by the teachers and principals due to salary anomalies. We are clearly of the position that an interim solution must be provided," Rambukwella said.

Given the economic crunch due to the adverse effects of the pandemic, the Minister called on the school teachers and principals to consider the matter more rationally than giving into emotions.

Rambukwella also claimed that a handful of individuals with political motives are keen to bring the country to a standstill with ulterior motives behind the issue over the salary anomalies.