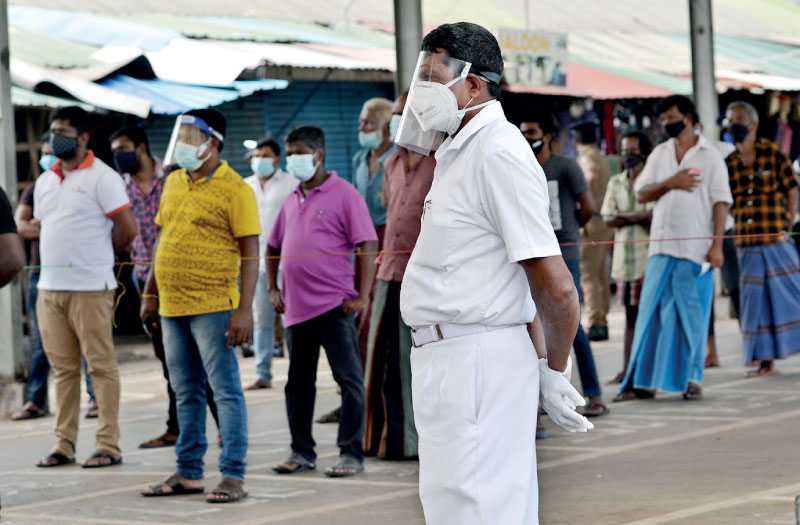 People line up to be PCR tested in Gunasinghepura - Pic by Shehan Gunasekera
---
635 new cases, of which 625 are associates of Peliyagoda cluster
Dual cluster increases to 11,858
5,121 persons receiving treatment at 52 centres
251 cases identified from Colombo District on Tuesday
27 Police Divisions and 5 GS divisions under lockdown
Ambulance service launched for isolated areas in Colombo and suburbs
---
By Shailendree Wickrama Adittiya
---
The total number of COVID-19 cases identified in the island exceeded 15,000, with 635 new cases being identified yesterday. Of this, 625 were associates of the Peliyagoda cluster.

The total COVID-19 case count currently stands at 15,350, of which 11,858 are from the dual cluster that emerged from Divulapitiya and Peliyagoda. Of the remaining cases, 1,467 are returnees from abroad, 950 are Navy personnel and their contacts, 651 are linked to the Kandakadu cluster, and 102 are foreigners.

According to the Epidemiology Unit, 5,121 persons are currently receiving treatment at 52 centres in the country. This includes 422 persons at the Neville Fernando Teaching Hospital, 307 at the Bingiriya Treatment Centre, 243 at the Punani Treatment Centre, 238 at the Kalutara Police Training School, and 219 at the Gallela Treatment Centre.

Hospitals are also monitoring 523 persons suspected of having COVID-19.

Meanwhile, the COVID-19 recoveries rose to 10,183, with hospitals discharging 646 persons yesterday. This includes 91 persons from the Punani Treatment Centre, 69 persons from the Anuradhapura Teaching Hospital, 64 persons from the Palamune District Hospital, and 63 from the Hambantota District General Hospital.

The Health Promotion Bureau stated that 616,900 PCR tests have been carried out in the island, including 10,207 tests on Tuesday.

An increase of cases in the Colombo District was evident on Tuesday, with 251 out of the 430 cases identified that day emerging from various areas of the Colombo District. This includes 55 cases from Colombo 3, 32 from Grandpass, 28 from Pettah, 25 from Keselwatte, 20 from Maligawatte, and 17 from Dematagoda.

Tuesday's cases also included 18 from Gampaha District and 16 from Kalutara District. A total of 91 cases were identified among officers of the Police and 24 were identified from the Bogambara and Kuruwita Prisons.

Given the spread of COVID-19 in the island, 27 Police Jurisdictions and five Grama Sevaka Divisions are under lockdown, Police Spokesperson DIG Ajith Rohana said. Lockdown is currently enforced fully or partially in 13 Police Jurisdictions of the Colombo District, 10 in the Gampaha District, three in the Kalutara District, two in the Kurunegala District, and two in the Kegalle District.

"A decision has been made to supply all essential services for persons in these areas to carry out their daily lives. Those employed in these essential services will be permitted to enter and exit these areas, along with staff of all institutions required to strengthen the economy. If persons wish to enter or exit these areas for any other purpose, it is important that they obtain permission from the Director General of Health Services," DIG Ajith Rohana stated.

He added that a special ambulance service has been launched for persons in isolated areas in Colombo and suburbs who require urgent medical care. The service can be accessed via 011 3422 558.

Meanwhile, Manning Market will be temporarily reopened in Peliyagoda this weekend or on Monday. While infrastructure is being set up, the Police Spokesperson said all workers of the Colombo market will be permitted to work at the temporary location as long as their PCR tests come back negative.

Those who are yet to be tested can provide their details to the Senior Superintendent of Police in charge of Colombo Central via 0718591551 so measures can be taken to carry out testing.

DIG Ajith Rohana added that 12 persons were arrested on Tuesday for failing to wear masks or maintain social distancing. A total of 137 persons have been arrested to date for failing to adhere to these two safety guidelines.

He went on to say that two persons were arrested in Kandana for failing to adhere to travel restrictions enforced in isolated areas.

Meanwhile, the National Operations Centre for the Prevention of the COVID-19 Outbreak (NOCPCO) said eight persons left quarantine centres yesterday and that a total of 64,263 persons have left centres to date.

Overseas arrivals, including 320 from Dubai and 110 from Ethiopia, have been directed to undergo quarantine. According to the NOCPCO, 2,277 persons are currently undergoing the process at 28 centres.

---