By P.D. de Silva

Centre for Monitoring Election Violence (CMEV) National Coordinator Manjula Gajanayaka has said that the election watchdog has allocated Rs. 7 million to monitor how much the nominees will be spending for their respective presidential campaigns.

Gajanayaka, speaking at a workshop on election reporting organised by Internews, noted that the initiative was expected to lend transparency to the campaign finances of candidates and parties. Increasing political commitment in order to regulate campaign finance is a core element of the electoral reform process by creating a broad public discourse, Gajanayaka said.

He also said that empirical evidence would be important in order to substantiate a Campaign Finance Bill in the future.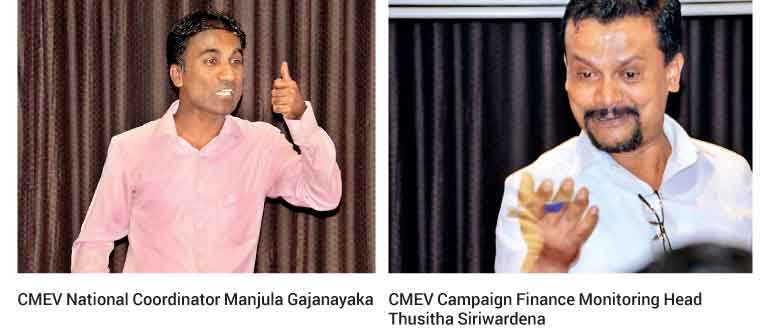 Thusitha Siriwardena, who is in charge of the Campaign Finance Monitoring Unit of CMEV, said that the four key factors the unit would be monitoring would be the money spent on print, electronic, social media and ground level campaigns.

He said that the two key contestants had spent over Rs. 170 million for their respective campaigns on print and electronic media up to 20 October. Elaborating further, Siriwardena said that from 6-20 September, Rs. 70 million had been spent by the two main candidates for their print media campaigns and almost Rs. 100 million for their electronic media campaigns.