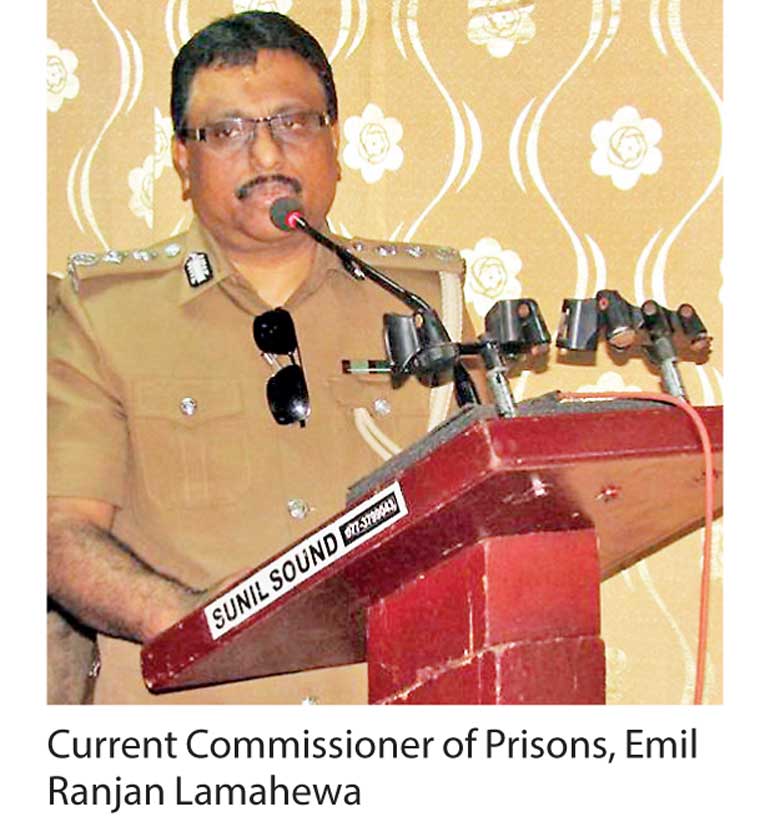 Two suspects arrestedin connection with prison riots
By Skandha Gunasekara

The Criminal Investigations Division (CID) has made several key arrests, including those involved in the 2012 Welikada Prison riot and the Avant Garde floating armoury.

Current Commissioner of Prisons, Emil Ranjan Lamahewa, was arrested by the CID yesterday at his official residence at No. 142 Baseline Road, Colombo 9, Police Spokesman SP Ruwan Gunasekara told the Daily FT.

Lamahewa, who was the Director General of Prisons at the time of the Welikada Prison riot, has been arrested for murder, the Police spokesman said.

In addition, IP Neomal Rangajeewa of the Police Narcotics Bureau was arrested by the CID for murder on Wednesdayin connection with the same incident.

Both individuals were to be produced before the Fort Magistrate Court yesterday.

In 2012 a prison riot broke out at the Welikada Magazine Prison, leaving 27 people dead. Subsequent investigations have shrouded the incident in conspiracy theories, including allegations that former Defence Secretary Gotabaya Rajapaksa used the riot to dispose of inmates, with damning evidence presented against him.

Meanwhile, former army colonel Don Thomas Alfred Wijetunga Thilakaratne was arrested by the CID on Wednesday as well for his part in the Avant Garde floating armoury.

Thilakaratne was arrested on Wednesday (28) at his residence at No. 14/A Lion City, Liyanagemulla, Seeduwa and was produced before the Galle Magistrate's Court on the same day.

The former army colonel was in charge of the floating armoury while it was in operation during the tenureof the Mahinda Rajapaksa administration.
SLPP councillor arrested over Digana violence
After weeks of speculation of political involvement in the recent communal unrest in Theldeniya, a Sri Lanka Podujana Peramuna (SLPP) Local Government Councillor has been arrested by the CID in connection with the violence.

SLPP Kundasale LG Councillor Kumara Mohottige Samantha Perera, alias Araliya Samanatha, was arrested yesterday and produced in the Theldeniya Magistrate's Court.

The suspect was remanded until 2 April.

Others who were previously arrested for the same incident, including Mahason Balakaya leader Amith Weerasinghe, were further remanded by the Theldeniya Magistrate's Court until 10 April.

The Kandy District was shrouded in violent communal unrest resulting in the death of two individuals and damage to hundreds of vehicles, houses and private businesses.

SLPP Chairman Prof. G.L. Peiris this week issued a statement denying the involvement of SLPP members in the communal violence and charged that the Government was attempting to discredit the party by linking it with extremist groups. He also found fault with a recent report published by international news agency Reuters that linked SLPP members to the riots.