CBK to remain as advisor to the party
Says decision taken following Central Committee meeting
Candidate to be selected after tough screening process
Sirisena to contest from Polonnaruwa and lead the election campaign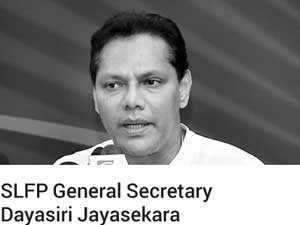 By Nuwan Senarathna

The Sri Lanka Freedom Party (SLFP) decided remove former President Chandrika Bandaranaike Kumaratunga from the post of Organiser for the Attanagalle Electorate.

Speaking to the media at the SLFP Head Office, General Secretary Dayasiri Jayasekara said the decision was taken at the party's Central Committee and politi bureau meeting held on Thursday night.

Public Management and Accounting State Minister Lasantha Alagiyawanna was appointed as the Acting SLFP Organiser for Attanagalle, he said.

"The decision to remove Kumaratunga was taken after lengthy discussions. The Central Committee and politi bureau had agreed to remove her from the post after considering her recent activities and remarks. The decision will be communicated to her officially in the coming days. However, she will remain as the party advisor," Jayasekara said.

A total of 20 organisers were removed from their post following the review carried out by the party, he said.

According to Jayasekara, those removed from the post had acted against the party's interests during recent Presidential Election.

"Those who were removed from their post went against the party's will. Some of them openly supported other political parties. This is a move to bring the party back to its glory days and become the major political force in the country," he added.

Jayasekara said that the party decided to introduce a strict screening process for potential candidates. The move will ensure that only the most suitable individuals to be named as candidate for the forthcoming General Election, he added.

According to Jayasekara, the candidates will have to sign a declaration agreeing to the party's guidelines and those who refuse to follow them will be removed from their positions. He pointed out that the decision was taken to pave the way for the most suitable candidates to be elected by the public in the forthcoming General Election.

Jayasekara also said that former President Maithripala Sirisena would lead the SLFP's election campaign and contest from the Polonnaruwa District.

"Former President Maithripala Sirisena will contest the election and he will lead the campaign. We are expecting to nominate the most suitable candidates to form a Government with qualified individuals to develop the country," he said.