By S.S. Selvanayagam

Court of Appeal yesterday extended till 30 January the Interim Order staying the summons by the Jaffna Magistrate Court (JMC) requiring President Gotabaya Rajapaksa to attend before it on 27 September.

The matter came up before Justice Dr. Ruwan Fernando. The Interim Order was issued on 24 September by Justice Deepali Wijesundera until 3 December. Justice Achala Wengapulli had recused himself from being a member of that Bench.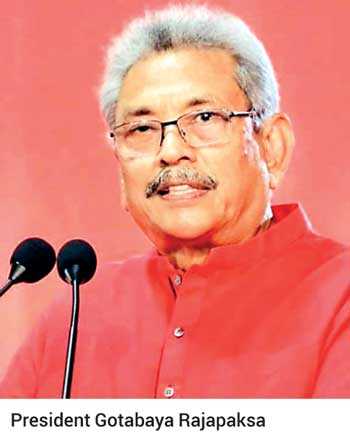 Court had also directed to issue notices to Major General Mahinda Hathurusinghe, former Army Commander Lt. Gen. Jagath Jayasuriya, Atchuveli Police OIC and former IGP N.K. Ilanankakone.

President Gotabaya Rajapaksa had been summoned to give evidence before the Jaffna Magistrate's Court on 21 June in a Habeas Corpus inquiry into the disappearance of two human rights activists who went missing during his tenure as the Secretary to the Ministry of Defence.

Rights and political activists Lalith Kumar Veeraraj and Kugan Murugananthan went missing a day before World Human Rights Day on 9 December 2011. They were last seen in the Kaithady area in Jaffna.

Seven years ago, a writ of Habeas Corpus was filed in the Court of Appeal to demand their release if they were in the custody of the State.

According to their initial statements, Lalith Kumar and Murugananthan Kugan, travelling from Point Pedro on a motorbike, were stopped at Kaithady by a group, bundled into a white van and taken away. That was the last time the two activists were seen.

Before they went missing Lalith Kumar who resided in the Avissawella area and Murugananthan Kugan from Jaffna had been organising an event to mark World Human Rights Day in Jaffna.

Lalith Kumar was formally a non-academic staffer at the University of Jayawardenapura. He later joined the People's Liberation Front (JVP) to pursue full time politics.

After the end of the war in 2009, he went to Jaffna as he was fluent in the Tamil language. He joined the Jana Aragala Wiyapaaraya (Movement for People's Struggle), a dissident faction of the JVP, in 2011, and then the Frontline Socialist Party. Lalith Kumar met Murugananthan Kugan in Jaffna during his Left political movements, the statements said.

Romesh de Silva PC appeared for President Gotabaya Rajapaksa. Senior State Counsel Wasantha Perera appeared for Attorney General.