Amendment to Holidays Act No. 29 of 1971 published in Gazette

MP Wijeyadasa Rajapakshe to present it as private member bill

Fine for violators to go from Rs. 1,000 to Rs 10,000
A private member bill to amend the Holidays Act prohibiting tuition classes on Poya days and Sundays will be presented to Parliament by former Justice Minister MP Wijeyadasa Rajapakshe shortly.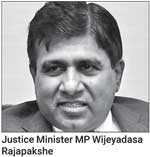 The bill to amend the Holidays Act No. 29 of 1971 has been published in the Government Gazette before it's presented to the House.
The amendment bill states no person shall 'on any Full Moon Poya Day or any Sunday till 3.00 p.m.' conduct or facilitate for any tuition class for students attending schools at any premises or any location.
The fine for violating the provisions of the Act will be increased from Rs. 1000 to Rs. 10,000 by the new bill.