By S.S. Selvanayagam

The Supreme Court fixed for support on 3 July for granting of leave to proceed with the Fundamental Rights petition filed in a bid to re-open the portion of the A26 road (part of which passes along the Kandy Dalada Maligawa).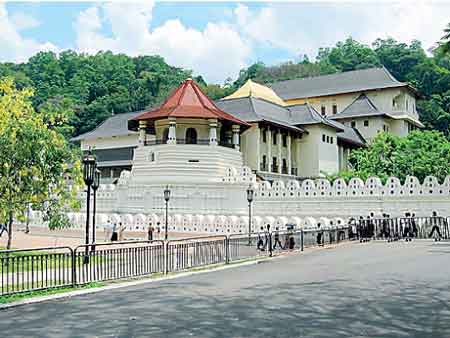 The matter came up before the Bench comprising Justices Eva Wanasundera, Nalin Perera and Prasanna Jayawardane.

Buddhist monks and laymen have intervened to resist the rights petition. Intervenient-Petitioners are Sri Dalada Maligawa Diyawadana Nilame Pradeep Nilanga Dela, Ven. Anamaduve Sri Dhammadassi Anunayake, Ven. Vendaruve Sri Upali Anunayake Thero, Ven. Medagama Dhammananda Thero, Narampanave Ananda Thero, Ven. Muruddeniye Dhammarathana Thero, Ven. Kahawaththe Saranankara Thero, Members of Asgiri and Malwathu Karaka Sanga Sabhas, Sri Vishnu Mahaa Devalaya Basnayake Nilame Mahindra Ratwatte in one intervenient petition.

Sanjeeva Jayawardane PC with Charitha Rupasinghe and Asoka Niwunhella appeared for the intervenient petitioners.

Nihal Jayamanne PC appeared for Kandy YMBA and Kandy Buddhist Association. Manohara de Silva PC appeared for several Basnayake Nilames of Pitissara Devalayas.

Faisz Musthapha PC appeared for Kandy Tamil Traders' Association and Nuwara Sinhala Velantha Samithiya.

J.C. Weliamuna PC appeared for the petitioners in the main petition, K. Mudiyanselage Keerthi, H.M. Dayananda, J.M. Mahinda and R. Chandrarathne. They cited Road Development Authority, IGP, Minister of Higher Education and Highways Lakshman Kiriella, Attorney General and others as Respondents.

Petitioners claim that they are individually and jointly and actively engaged in the efforts to bring the said A26 Road back to full and free public use as a portion of it has been restricted for public use causing intense pain and suffering to them, the residents of Kandy due to the massive traffic.

They state that they are concerned and affected by the health issues, environmental pollution and economic detriments caused as a direct result of the said restriction.

They state the said Road approximately 600 metre stretch of the A 26 Road passes along the southern boundary of the Dalada Maligawa and the relevant intersection has been the only gateway for three main Roads (A 1, A 9 and A 26) which connects a number of provinces and this road is used by approximately over 10,000 vehicles a day.

They state the said stretch of A 26 (Kandy – Mahiyangana – Padiyatalawa Road) continued to be a vital intersection continued to be vital part of the day to day travel of the residents of Kandy until its closure in 1998 following the terrorist attack on 25 January 1998.

They claim that the terrorist attack was not carried out using the said stretch but the Raja Veediya which is not closed to date.