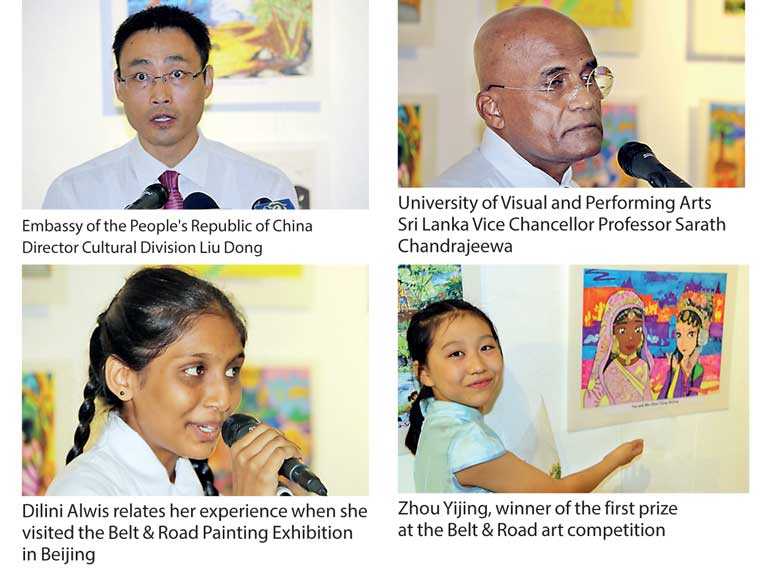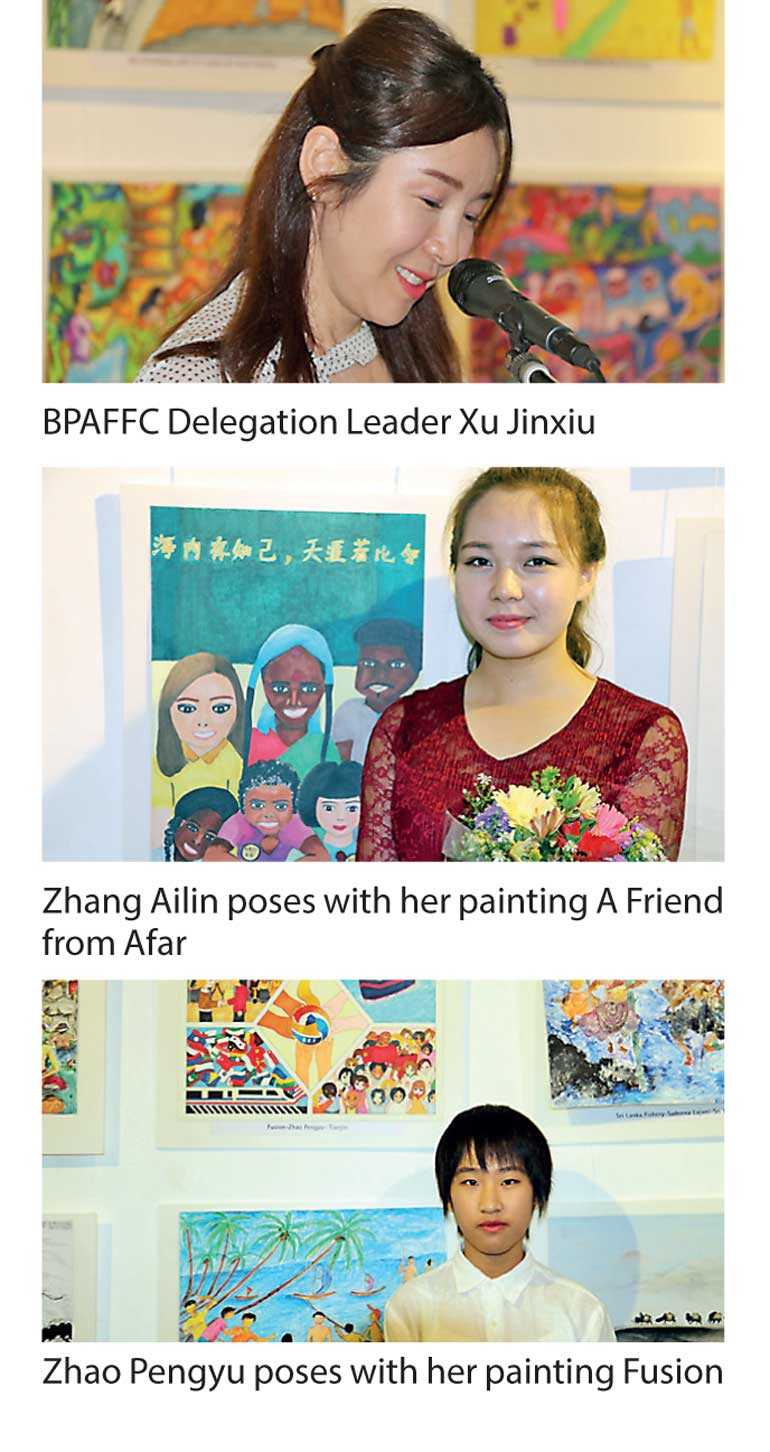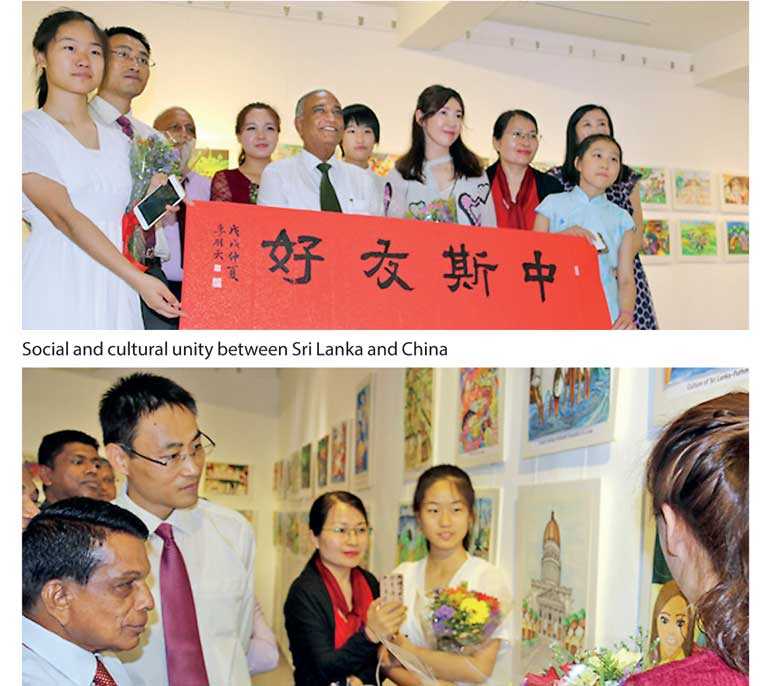 "The Belt and Road initiative may be China's idea but its opportunities and outcomes are going to benefit the world," said Embassy of the People's Republic of China Director Cultural Division Liu Dong at the opening of the Belt & Road Painting Exhibition at the JDA Perera Gallery of the University of Visual and Performing Arts in Horton Place Colombo Monday morning (23).

102 paintings specially selected from over 750 award winning work of art by teenagers living in Beijing, Tianjin, Hebei, and Sri Lanka are on display until 25 July. The exhibition is being hosted by the Association for Sri Lanka China Social and Cultural Cooperation.

Speaking further Liu Dong said that China and Sri Lanka were good neighbours and important countries along the maritime Silk Route. The maritime Silk Road was not only a road of trade but also a road of friendship, featuring peace, openness, inclusiveness, mutual learning

and win-win cooperation which have linked China and Sri Lanka closely and has been a bond of friendly exchange between the people of the two nations.

"This year marks the fifth anniversary of the launch of the One Belt & One Road initiative by President Xi Jinping. Over the past five years more than 80 countries and international organisations have signed corporate agreements with China. Sri Lanka is among the

first countries to support the One Belt One Road initiative through a Government statement," he said.

Following the principles of extensive consultation, joint contribution and shared benefits the initiative encourages partner countries and others to combine comparative advantages, narrow development gaps, accelerate regional integration and achieve common development and

prosperity by promoting the connectivity of policy, infrastructure, trade, finance and people.

"China has no geopolitical calculations, seeks no exclusionary blocs and imposes no business deals on others. As President Xi said, "It is not a solo for China itself but a real chorus comprising all countries along the route," he added.

He also said that China had entered a new era. The Chinese people under the leadership of the communist party of China is making great efforts to realise the two century goals which are to build a moderately prosperous society in all respect by 2020 and to build China into a great modern socialist country that is prosperous, strong, democratic, culturally advanced, harmonious and beautiful by middle of the century. China will continue to follow a path of peaceful development, to presume a mutually beneficial strategy of opening up to uphold justice while pursuing shared interests, to seek innovative and inclusive development that benefits everyone, safeguards world peace and contributes to global development.

"China and Sri Lanka are good neighbours, good friends and good partners. China's friendly policy towards Sri Lanka has never changed and will not change in the future. Our friendship is built on a profound and broad popular basis and time tested. China will never peruse development interests at the expense of Sri Lanka," emphasised Vice Chancellor of the University of Visual and Performing Arts. Professor Sarath Chandrajeewa said that Art and Music were a universal language and was honoured that the exhibition was being held at the University. Xu Jinyu, President of the Beijing Peoples Association for Friendship with Foreign Countries (BPAFFC) said that although there were many differences between the Chinese and Sri Lankan languages and cultures, painting was a unique language of art communication which brings them together. She also said that the paintings expressed the understanding of the teenagers of both countries of the Belt & Road initiative and their good longing for the friendship between China and Sri Lanka.

"I hope the exhibition will convey our sincere friendship to the people of Sri Lanka and further enhance the mutual understanding of the people of China and Sri Lanka," she added. President of the Association for Sri Lanka China Social and Cultural Cooperation Indrananda Abeysekera, 11 year old Zhou Yiping who won the first prize at the Belt & Road Painting Competition and Sri Lankan school girl Dilini Alwis who was privileged to participate at the Belt & Road painting exhibition held in Beijing spoke at the event.