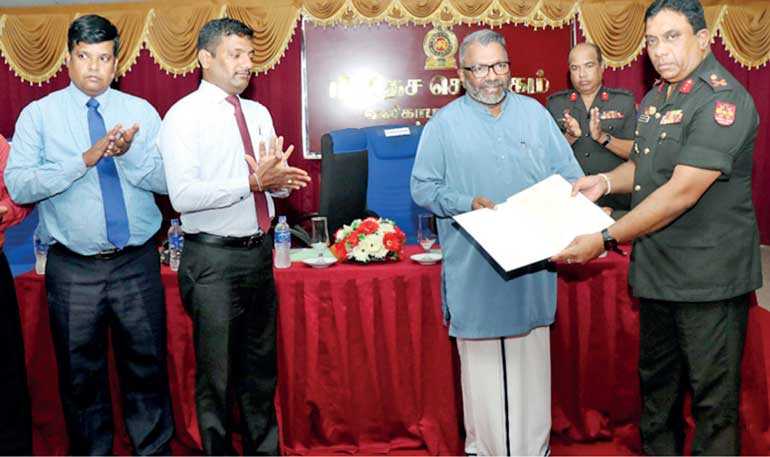 The Sri Lanka Army has released another 27 acres of land in Jaffna, used by the Army for service requirements on Friday.
Security Force Headquarters-Jaffna (SFHQ-J) has released 26.4 acre extent from the Palaly cantonment area for original land owners in Myladdy area and one more acre of the State land for the use of RCTM School in the north of Palaly on during a brief ceremony, held at Thelippalai Divisional Secretariat.

Security Forces-Jaffna Commander Major General Darshana Hettiarrachchi who was instrumental in pioneering the release of those lands, being held for security purposes delivered documents, related to the releases to the Northern Province Governor Dr. Suren Ragavan in the presence of the Additional District Secretary for Jaffna (Lands) S. Muralidaran, Thelippalai Divisional Secretary S. Shivasri and a few senior officers.

Major General Hettiarrachchi addressed the occasion and explained the attendees about this gesture of goodwill and promised he would do everything possible to accommodate the concerns of civilians in close consultation with State authorities in future, too.

The Governor after receipt of the documents in turn handed them to the Additional District Secretary for necessary onward procedures.