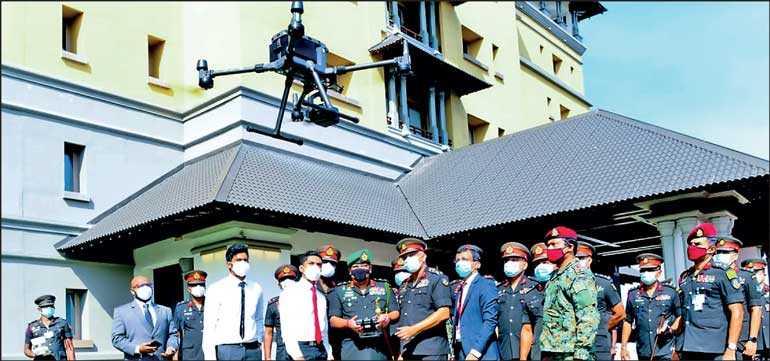 Army Commander Lieutenant General Shavendra Silva takes command of a quad-copter 'drone' during the launch of the 15th Regiment Sri Lanka Artillery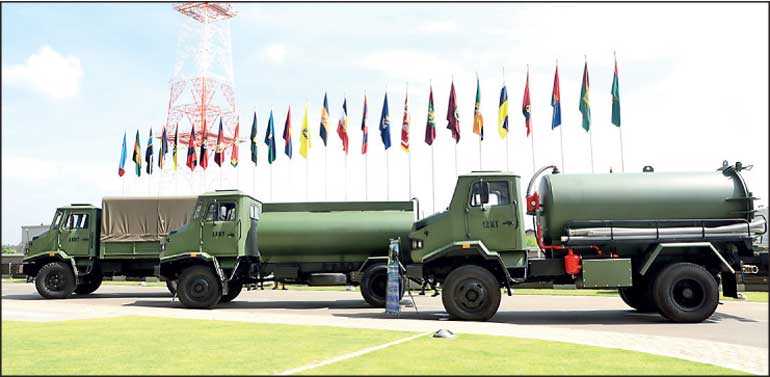 The 'UniColt' family of logistics vehicles fabricated by the SLEME on track chassis already in service, launched at Army Headquarters
---
By Asiri Fernando
---
The Sri Lanka Army on Thursday launched a new regiment, equipped with unmanned aircraft systems (UAS), commonly known as 'drones,' with the aim of fulfilling the Artillery Regiment's surveillance needs and to meet future challenges.

Addressing the press, Army Commander Lt. Gen Shavendra Silva said that the technological evolution of the army was essential to being prepared for future threats of both conventional and unconventional nature. The establishment of the 'drone' regiment, officially named, 15th Regiment, Sri Lanka Artillery, was in line with the Army's strategic plan - 'Way Forward Strategy 2025'.

According to the Army, the new 15th Drone Regiment is equipped with drone's carrying high-tech cameras that enable operations within short and medium distances, and quad-copters with observation cameras for surveillance purposes in military or non-military applications.

Lt. Gen Silva said that the Army had always desired organic aerial reconnaissance, surveillance and target equation capability, and thanked the contribution made by the Sri Lanka Air Force, which had provided such services during the 30 years of conflict. He explained that drones can be used for a range of tasks during peace time, ranging from surveillance, search and rescue, critical infrastructure security, counter narcotic operations and to aid in disaster response and relief operations. Lt. Gen Silva expressed confidence that technological innovation such as the new 'drone' regiment will enable the Army to face a range of national security challenges in the future.

The Sri Lanka Electrical and Mechanical Engineers Regiment (SLEME), also launched three vehicle prototypes from a planned family of logistics vehicles, which are fabricated by the Army on track chassis already in service. The vehicles are part of a fleet sustainment plan, a senior Army officer told the Daily FT. The family of logistics vehicles, dubbed 'UniColt,' currently includes a utility-troop transport truck, a bowser truck and a gully emptier truck.

"This family of vehicles will see significant saving for the Army during these challenging periods for the national economy," the officer said, explaining that the local fabricated on the family and the repurposing of in-service truck chassis save the Army around Rs 3.5 million per vehicle.