Sri Lanka Army Chief of Staff Major General W. B. D. P. Fernando, speaking at the first ever United Nations High-Level Conference of Heads of Counter Terrorism Agencies of Member States at the United Nations Headquarters in New York on 29 June, noted that as a country that had experienced first-hand the suffering of its people due to terrorism, Sri Lanka understands that a key pillar of counter-terrorism is prevention and addressing the root causes of conflict.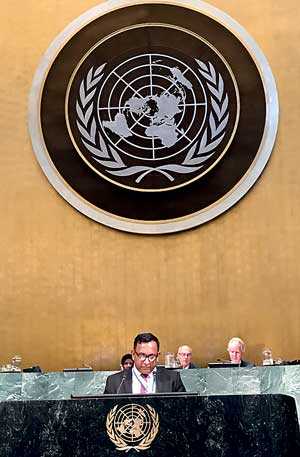 The historic Conference, under the auspices of the United Nations, was convened by Vladimir Voronkov, Under-Secretary-General of the newly established UN Office of Counter-Terrorism, and engaged all thirty-eight counter-terrorism entities of the United Nations System. One of the aims of the Conference was to provide an opportunity to forge partnerships and increase cooperation and sharing of information among states.

Sri Lanka spoke in the Fourth Session, entitled 'Strengthening the role and capacity of the United Nations to support member states to implement the United Nations Global Counter Terrorism Strategy'.

Sri Lanka's delegation included Major General W. B. D. P. Fernando RWP RSP USP psc, Chief of Staff, Sri Lanka Army (Head of Delegation); W. K. Nalaka de Silva, Deputy Inspector General of Police, Head of the Terrorist Investigation Range; Captain (C) P. A. S. Rathugamage, Commanding Officer SLNS ‹Vijaya›, Sri Lanka Navy; Squadron Leader K. A. I. A. Kaluthanthriarachchi, Sri Lanka Air Force; and Sonali Samarasinghe, Minister, Permanent Mission of Sri Lanka to the United Nations.