Says Govt. has evidence to prove the claims
Says groups were brought in from outside but had support of area politicians
Says terrorist network responsible for Easter bombing has been 'broken up' by security forces
Madduma Bandara says Govt. will investigate into complaints on Police inaction
Says political motives behind anti-Muslim violence


By Chathuri Dissanayake

Culprits of the anti-Muslim violence have been identified, and action will be taken against those responsible for 'organised attacks' launched in several locations in the North Western Province, Minister Navin Dissanayaka said yesterday.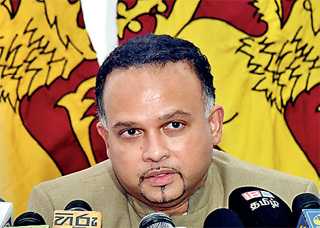 Plantation Industries Minister Navin Dissanayake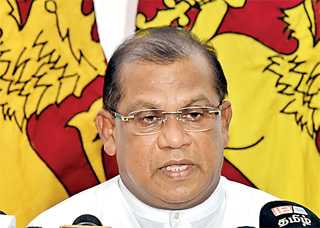 Public Administration and Disaster Management

Minister Ranjith Madduma Bandara


The attacks, which Dissanayake claimed were organised and systematically carried out in several locations, were carried out by people "brought from outside."

"They were organised thugs that have been brought to the areas from other areas. We have evidence and we can prove this," he said, speaking at a press conference held at Temple Trees yesterday.

Dissanayake said the leaders of the groups, Namal Kumara, Dan Priyasad and Amith Weerasinghe have already been apprehended by the Police, but also claimed that the groups had the support of the political leadership of the areas the groups operated in during the last three days.

The Minister also insisted that the situation has now been brought under control completely by the security forces, who have been given a "complete free hand" to handle the situation, with instructions given not to allow any political interference under any circumstances. The Government will also take further measures to beef up security, Dissanayake said, expressing confidence in Acting IGP Senior DIG Chandana Wickremeratne being able to handle the situation.

However, neither Dissanayake nor Public Administration & Disaster Management Minister Ranjith Madduma Bandara, who co-chaired the press conference, was able to explain why the Police and the Security Forces allegedly didn't prevent mob attacks carried out in certain areas. "There have been complaints and we will investigate," Madduma Bandara said, when asked why the police were not proactive in preventing the attacks. Over 70 people connected to the attacks have already been apprehended, and will be charged under the International Covenant on Civil and Political Rights (ICCPR) Act. He claimed the attacks were carried out with political motives to disrupt civilian lives, which were returning to normalcy after the Easter Sunday tragedy.

"The country was returning to normalcy three weeks after the bombs on 21 April. After 21 April, during the three weeks, we did not allow anything to happen. There were politicians who said that something will happen on the 13th, but we saw that nothing happened. We saw that on the 13th there were a group of organised people who carried out their activities in several locations, Chilaw, Kuliyapitiya, Hettipola, and several other areas," he said.

"Some politicians are trying to push the Government into crisis, we know who they are," he said.

The Public Administration Minister also insisted that the security forces have carried out their responsibility very successfully, as during the three weeks these terrorists were arrested and others have committed suicide.

According to Dissanayake, 90% of the investigations regarding the terror network responsible for Easter Sunday attacks have been completed, where the group leader Zaharan Hashim's "network has been broken up."

However, Dissanayake admitted Sri Lanka is facing a challenge with the spread of Wahhabism, influenced by exposure to Saudi Arabia, where a large percent of migrant workers from Sri Lanka seek employment.

The Minister said that the Madrasa act was a step in the right direction to curtail Wahhabism, and the Government also intends to work with other countries in the region faced with the same issue.

Pix by Ruwan Walpola