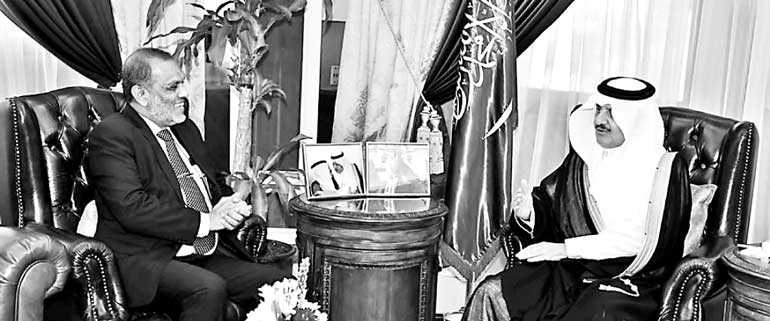 Ambassador of Sri Lanka to the Kingdom of Saudi Arabia Azmi Thassim recently concluded a visit to the Eastern Province of the Kingdom of Saudi Arabia. The Eastern Province of Saudi Arabia is one of the main industrial economic centres in the Kingdom.

Ambassador Thassim called on the Governor of the Eastern Province, Prince Saud bin Nayef and updated him about the current situation in Sri Lanka as well as the work that Sri Lanka Embassy is carrying out in the Eastern Province. The Ambassador also called on the Director of the Eastern Province Branch of the Ministry of Foreign Affairs. He underlined the importance of having a monthly mobile consular service in the Eastern Province, as it is a service which is much beneficial to the Sri Lankans who are working and living in the Province.

The Ambassador met the two Deputy Mayors of the Eastern Province, Provincial Educational authorities and the Chairman and the Secretary General of the Dammam Chamber of Commerce. He also met with the Director General of Prison Affairs in the Eastern Province and visited the Dammam male and female jails to meet the Sri Lankan inmates.

The Ambassador visited a large private sector company in Dammam to discuss with the management on current trends in the Saudi economy and how these trends could be utilised for the benefit of Sri Lanka. In this visit he also travelled to Al-Ahsa and Jubail areas to meet the Sri Lankans. He participated in the mobile consular service that the Embassy carries out every month in Dammam area in the Eastern Province. The Ambassador also held a special meeting with the office bearers of the 'Eastern Province Sri Lanka Culture Club' on enhancing the Embassy services in the Province.

Minister Counsellor Madhuka Wickramarachchi and Protocol Officer of the Embassy A.L.M. Jabeer accompanied Ambassador Thassim to these meetings.