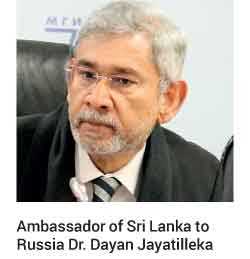 Ambassador of Sri Lanka to Russia Dr. Dayan Jayatilleka attended the lecture on the Indo-Pacific concept within the framework of the course of public lectures titled 'ASEAN Academic Days' on 16 October, at the invitation of the Moscow State University of International Affairs (MGIMO). The institution is renowned as the most prestigious university in Russia for international political, legal and economic studies since it was begun 1944, and celebrates its 75th anniversary this year.

Thammasat University Faculty of Political Studies International Studies Program Director Dr. Jittipat Poonkham delivered a lecture on 'A Menu of the Indo-Pacific Concepts: A View from Thailand'. He shared his views on the current dynamics and trends in political and economic development for ASEAN's engagement as a whole and for the ASEAN member-states in the Asia-Pacific and Indian Ocean regions individually.

The lecture was also attended by the Ambassador of Thailand to Russia Thanatip Upatising, and ASEAN Centre Director Dr. Victor Sumsky. The discussion was moderated by MGIMO ASEAN Centre senior expert Ekaterina Koldunova, who also serves as Deputy Dean of the School of International Relations and Associate Professor of Asian and African Studies Department.

Ambassador Jayatilleka and Director Sumsky, one of the main Russian experts on Asia-Pacific Region, made substantial interventions during the Q&A Session of the event.