Army Chief says side-lining Bulathwatte resulted in intelligence setbacks
Bulathwatte's platoon implicated in murder of Lasantha Wickrematunge, other scribe attacks
Van that abducted journalist Keith Noyahr in May 2008 rented by Bulathwatte's cousin
Tripoli MI platoon was tasked with 'surveillance' of journalists


By a Special Correspondent

The main suspect in the abduction of journalist Keith Noyahr in May 2008, Major Prabath Bulathwatte, who also led the shadowy military intelligence unit suspected to have been behind the 2009 murder of The Sunday Leader Editor Lasantha Wickrematunge, has been restored to active service, Army Commander Lt. Gen Mahesh Senanayake said.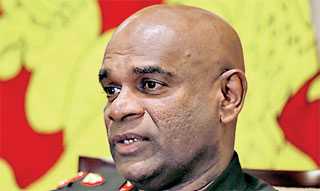 Army Commander Lt. Gen. Mahesh Senanayake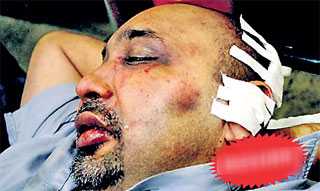 Keith Noyahr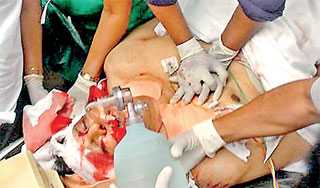 Lasantha Wickrematunge


Making the shocking revelations during a television interview aired on Saturday night, Army Chief Lt. General Mahesh Senanayake claimed that side-lining Bulathwatte had resulted in intelligence setbacks after the interviewer revealed details that the terrorist behind the Easter Sunday bombings, Mohammed Zaharan, had been on the intelligence officer's radar. The interviewer claimed that Bulathwatte's services had not been availed of, since the officer had been side-lined.

"You are right. At that time, such a thing happened. Since this incident, he has been put on duty in a special team that functions directly under me," the Army Commander replied.

Senanayake said that as a result of investigations into the conduct of intelligence officials, they had to be transferred from their duty stations and given other tasks which may have disrupted ongoing intelligence probes.

Major Bulathwatte was arrested in connection with the abduction and assault of Keith Noyahr in February 2017. He is currently out on bail.

His reinstatement as an active intelligence officer has sparked fears about ongoing sensitive investigations relating to crimes against the media. Bulathwatte and his men are implicated in several of these cases.

As an officer attached to the Directorate of Military Intelligence (DMI), Major Bulathwatte led the Tripoli military intelligence platoon based in Slave Island. Painstaking investigations by the CID had found this unit was specifically tasked with the surveillance of journalists and initially operated out of Jaffna before being moved to Maradana.

The Tripoli platoon that Major Bulathwatte led has been implicated in a string of attacks against journalists, including the assassination of The Sunday Leader Editor Lasantha Wickrematunge, the abduction and assault on journalist Keith Noyahr, the attack on Rivira Editor Upali Tennakoon, and journalist Namal Perera. In December 2010, the CID narrowed in on the Tripoli team in connection with the Wickrematunge murder. Soon afterwards, the Wickrematunge murder case was handed over to the Terrorist Investigation Division (TID). The same order also transferred the Noyahr and Tennakoon attack investigations to the TID. Weeks later, former Defence Secretary Gotabhaya Rajapaksa ordered the Ministry of Foreign Affairs to grant Major Bulathwatte a diplomatic assignment in Bangkok, Thailand. The posting was cancelled after Mahinda Rajapaksa won the 26 January 2010 presidential poll.

In the Noyahr abduction case, CID investigations and in-depth mobile telephone analysis placed Major Bulathwatte near the military intelligence hideout in Dompe, where the journalist was tortured in order to make him reveal his sources. Investigations found that the safe house, Baduwatte Walawwa in Dompe, was rented by members of the Tripoli platoon and paid for by the DMI. The van Noyahr was abducted in was rented by Major Bulathwatte's cousin. At least two members of the Tripoli team have confessed that Noyahr was brought to the Dompe safe house on the night of 22 May.

As panic mounted about Noyahr's suspected abduction, President Mahinda Rajapaksa called his brother, the Defence Secretary, about the journalist's disappearance. Gotabhaya Rajapaksa called three people – then Chief of National Intelligence Kapila Hendawitharana, then IGP Jayantha Wickremaratne, and then SSP Colombo Southern Range Anura Senanayake. Hendawitharana, a retired Major General, called Director of Military Intelligence Brigadier Amal Karunasekera. Telephone records indicate Karunasekera placed a call from Jawatte in Colombo 5 to Major Prabath Bulathwatte, leader of the Tripoli team, whose phone showed activity at the time in the Dompe area where the safe house was located.

Hours after the series of phone calls, Noyahr was returned home by his abductors. Noyahr gave evidence that his assailants had received phone calls while he was being attacked at the Dompe safe house.

Eight months later, the Wickrematunge assassination may have been the Tripoli team's final mission. The platoon had to be disbanded when Lasantha Wickrematunge's murder sparked a local and international outcry that threatened to boomerang on Mahinda Rajapaksa's Government.

Analysis of phone records have placed members of Bulathwatte's platoon at Wickrematunge's murder scene, fleeing the scene soon after the murder, and near the slain journalist's home weeks before the attack.

Rights activists have expressed serious concerns about Bulathwatte's reinstatement as an intelligence operative while he remains a key suspect in major attacks against journalists in the 2006-2009 period. "Amid national security fears, discourse is already building to permit military officials and law enforcement sweeping powers that override fundamental freedoms and human rights. This is what happened during war time, and this was how it spiralled into atrocities against journalists and political opponents," said Centre for Policy Alternatives Senior Researcher Bhavani Fonseka. "The reinstatement of a key suspect back into an intelligence unit that was supposedly behind attacks on journalists gives a clear message about impunity and the tacit approval for such atrocities in the name of fighting terrorism," Fonseka charged.

After the Easter Sunday bombings, former Defence Secretary Gotabhaya Rajapaksa claimed in interviews with foreign journalists that the Government had "killed" the morale of intelligence agencies by arresting intelligence officers on what he called "baseless" allegations. Rajapaksa singled out the Directorate of Military Intelligence – the army intelligence wing to which the Tripoli Platoon belonged – as being the most "well-trained, superior, and most experienced" of all intelligence agencies in the country.