---
Calls on general public not to vote for anyone connected to former President Sirisena
Assures to provide employment for graduates after election
Minister Prasanna Ranatunga yesterday said the key objective of general election is to re-elect Mahinda Rajapaksa as the Prime Minister by a record number of votes, and urged the public not to vote for anyone even connected to former President Maithripala Sirisena.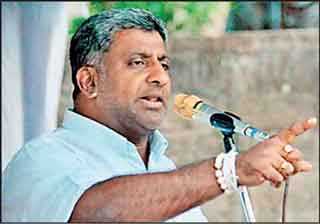 Minister Prasanna Ranatunga


"The aim of our election is to elect Mahinda Rajapaksa as the Prime Minister of the country by a landslide victory. The masses have already rallied for this," he said at the opening of the office of former Provincial Councillor Sahan Pradeep Vithana, who will contest for the General Election from the Mahara electorate.

Ranatunga, who is the Industrial Export, Investment Promotion, Tourism and Aviation Minister, emphasised that the candidates who did not give up on the Mahinda-Gotabaya consolidation should be elected to Parliament in the upcoming General Election.

"The virtuous and people with gratitude have always been with Sri Lanka Podujana Peramuna (SLPP)," he added.

Noting that former President Sirisena had recently said that he is capable of catching the fish in the mouth of a cormorant like an eagle, Ranatunga claimed that he is famous for discreet actions.

"Former President Maithripala Sirisena did this brazen act in 2015 too. We doubt whether they will win this election and try to play the same old game. But, this time we are not going to let that happen. We urge the general public not to vote for anyone who was involved with him at the General Election," Ranatunga stressed.

He also charged that the hypocrisy of the United National Party (UNP) was well-showcased recently when they opposed the Appropriation Bill, which would have allowed funds to be disbursed among the general public.

"We submitted the Appropriation Bill to Parliament to carry out the development work that had been stopped in this country. The Government has not paid for what it has done until 2019. Therefore, we presented the Appropriation Bill to pay the due moneys and ensure the functions of the economy. However, the hypocrisy of the UNP was shown when they objected to the Appropriation Bill," he claimed.

Ranatunga also said providing employment for graduates was not an election-targeted program, but rather an election promise of Gotabaya Rajapaksa in the run to the Presidency.

The Minister assured that these graduates will be appointed to fulfil the promise of the Presidential Election. "The UNP was attempting to sabotage the program and put the graduates back on the streets without jobs, but we won't let that happen. These graduates will be provided with employment opportunities to actively contribute to the nation-building endeavour," he said.