The Attorney General has informed the Colombo High Court Trial-at-Bar that he does not intend to pursue the charges against former Navy Commander Admiral Wasantha Karannagoda, who was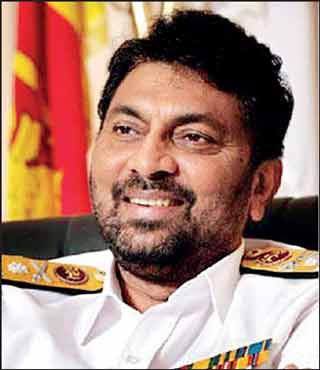 Former Navy Commander Admiral Wasantha Karannagoda
named as the 14th Defendant in the case filed against the abduction and disappearance of 11 youth in Colombo and suburbs in 2008 and 2009.

The case was taken up yesterday before a three-judge Bench comprising Justices Champa Janaki Rajaratne, Amal Ranaraja and Navaratne Marasinghe.

Senior Lawyer Janaka Bandara, appearing for the Attorney General, told the court that that Karannagoda has filed a writ petition before the Appeals Court against naming him as a defendant of this case and that the Appeals Court has accordingly issued an interim order against hearing the charges levelled against him.

Senior State Counsel stated that the restraining order will remain in effect until the end of the trial and the writ petition is scheduled to be heard before the Court of Appeal on the 30th.

Accordingly, the Senior State Counsel stated that he does not intend to pursue the charges against the accused.

The three-judge Bench directed the Senior State Counsel to inform the Court of Appeal of Attorney General's position on the next court date. The Bench also ordered the Senior State Counsel to inform them of the Appeal Court's decision.

The three-judge Bench informed the State Counsel that since there are 14 defendants in the case, it is appropriate to inform the Attorney General of his position when all the defendants appear before the court.

Further hearing of the case was postponed to 22 September.