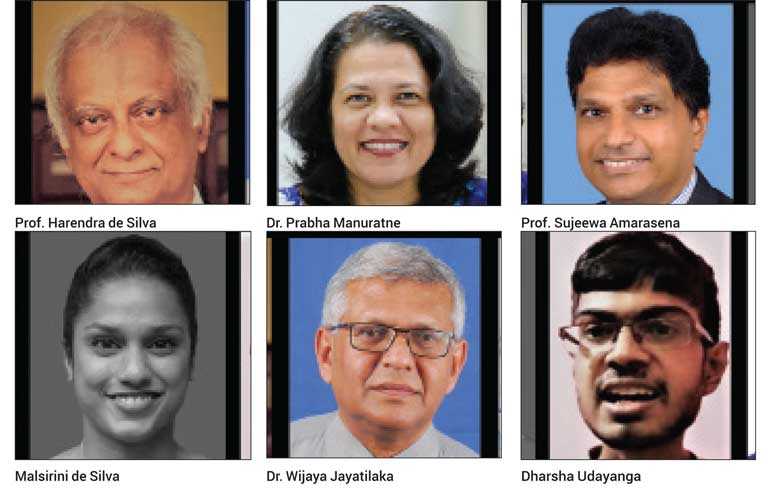 Culture of impunity over ragging in universities must end, but punitive measures alone will not work
Wider society must condemn the shameful practice and render it wholly unacceptable
Victims' stories and voices need to be amplified
By Ayesha Zuhair

Eradicating 'ragging' requires a bottom-up approach that goes beyond punitive measures, panellists at a webinar on the topic of violence in Sri Lanka's higher education institutions asserted on Monday. The eminent panellists stressed the need to bring about a 'systemic shift' through social awareness campaigns on the ill-effects of the brutal 'initiation rituals' that are still prevalent in universities and other tertiary level institutes, so that society as a whole will consider it as an unacceptable form of violence.

The webinar was organised by the Coalition Against Violence and Harassment in Universities, an advocacy group of academics, professionals and concerned citizens which seeks to persuade authorities to end all violence on campuses. It was partnered by Advocata Institute, an independent policy think-tank, and Hype Sri Lanka, a youth empowerment incubator with a network of 65 affiliated youth groups.

The panel of speakers comprised Vidyajothi Prof. Harendra de Silva – Co-Facilitator, Coalition Against Violence in Universities, Founder Chairman of the National Child Protection Authority and Professor Emeritus of Paediatrics; Prof. Sujeewa Amarasena – Vice Chancellor of the University of Ruhuna and Senior Professor in Paediatrics; Dr. Wijaya Jayatilaka – Director, Centre for Poverty Analysis and a Coalition leader who was co-chair of the Standing Committee on Gender Equity and Equality of the University Grants Commission that was entrusted with the topics of Gender Justice in Universities and Eliminating Ragging; Dr. Prabha Manuratne – Senior Lecturer, Department of English, University of Kelaniya; Malsirini De Silva – Deputy Head of Legal Research at Verité Research and an international human rights lawyer; and Dharsha Udayanga – a Political Science Undergraduate of the University of Ruhuna who has come forward to speak publicly about his experiences as a survivor of ragging. Management consultant and author Deepal Sooriyaarachchi moderated the webinar.


"We are passive perpetrators" – Prof. Harendra de Silva

Prof. Harendra de Silva noted that ragging is a phenomenon that cannot be viewed in isolation from the country's socio-political context. Physical, emotional and sexual violence happens on a daily basis so there is a degree of societal tolerance when it comes to various forms of violence, and ragging is one such example where there is impunity. The authorities can be unresponsive because they fear addressing sensitive political issues.

A disaster such as a murder or suicide produces a knee-jerk reaction from political leaders to placate aggrieved parties. The reality is that inquiries will be conducted as a time-biding measure until the fizz settles, and is forgotten thereafter. "I can't think of a single political leader who has been committed to this issue on the long-term. We pay lip service when disaster strikes but we are all passive, from the academic and administrative side too, we are all passive perpetrators including myself," he said.

Violence in campuses is enabled by the lack of monitoring and accountability at different levels. "Ragging is violent; freshers and those who oppose ragging are weak in terms of violence. There is no way in which they can fight. Empowerment is not about making the other side violent," he said, and stressed the need to amplify the voices of the weaker side.

He recalled from his experience as NCPA Chairman that child labour was eradicated in the country because of a bottom-up approach. One strategy, implemented with the support of media channels, was shaming the practice of employing children as domestic workers, resulting in pressure on parents from their own children against child labour.

According to Prof. de Silva, punitive action alone will not work; it has to be bottom-up. Those within the university system who turn a blind eye should be punished for not taking action and social pressure against ragging should be built through awareness campaigns so that ragging will become unacceptable from a social standpoint, he asserted.


"We need a systemic shift in our thinking" –

Dr. Prabha Manuratne

Concurring with Prof. Harenda de Silva on the need for a bottom-up approach, Dr. Prabha Manuratne said that there is broad acceptance of violence in society, where the majority stay silent thereby sustaining impunity for acts of violence.

"Society needs a wider reflection on this [issue], to go deeper and find out [the causes]. Deeper analytical conversations that go beyond mere stereotypical understanding are needed," she said while flagging the need for critical thinking and high ethical standards. "We need a systemic shift in our thinking," she said, asserting that the social dimension has to be addressed so that, through pressure from the wider society, a shift will be created whereby ragging will be seen as an undesirable practice.

"There is a wedge being drawn between students and lecturers. The onus is on the lecturers. We have to give students the moral courage so that they can stand for their rights without being afraid. This has to come from the bottom," she emphasised.

"We have to look at the institutional reasons that allow this practice to continue. A good sociologist will ask the question, 'What is it that allows the community to continue this practice?' We have to ask why is it that academics and administrators keep looking away when ragging occurs," she questioned and castigated those within the university system who prefer to sweep the issue under the carpet.

Dr. Manuratne expressed the view that academic rigour and ethical standards have deteriorated over the last 20-30 years. "To say no to ragging requires a lot of courage and ethical behaviour. This is not encouraged in our institutions. Sri Lankan universities are notoriously hierarchical institutions and ragging initiates students in that culture; it is an initiation to hierarchy. It is about putting people in their place," she reflected. She noted further that the internal politics that exist within each university and sustain ragging must be looked at. "In my experience, what we see is that student groups that engage in ragging, irrespective of stated political rhetoric, are plugged into institutional politics," she said.


"We took the bull by the horns" – Prof. Sujeewa Amarasena

Prof. Sujeewa Amarasena outlined the steps taken by the University of Ruhuna since the horrifying incident of July 2019, which came to the public domain thanks to the bold exposure by then freshman student-victim Dharsha Udayanga.

After this incident came to light, the University launched campaign referred to as the '3 E's' to eliminate ragging on Campus': (1) Education – educating all staff and students on the long-term harmful impact of ragging and violence; (2) Engineering – breaking open rooms within the University premises used by members of the Student Union for ragging purposes and installing CCTV cameras in these rooms, and (3) Enforcement – ensuring that all those involved in ragging are brought before the law.

Supported by video and audio evidence, 19 students were arrested in August 2019 and imprisoned for over six months. "Since the last incident on 8th July 2019, the university has been very peaceful. Not a single student admitted to the nine faculties this year were ragged. The minimum punishment for those found guilty should be sacking," the Ruhuna VC opined, drawing attention to the need to have effective deterrents in place. "We took the bull by the horns. Everything was done in accordance with the law. I made my position clear; everybody extended their support and we have changed the culture. What we did in Ruhuna is an experiment and it worked. It requires commitment. Currently we are in the consolidation phase. If we continue this, it will be a success," he said.

Prof. Amarasena also clarified that the campaign to eliminate ragging was not intended to curb legitimate democratic student activism. "We need to create a social movement against ragging. Every one of us, especially Vice Chancellors must be responsible. People should be able to freely express their ideas, he added.


"Unfortunate that the law has taken a back seat" – Malsirini de Silva

Malsirini de Silva, focusing on the legal angle, said that Sri Lanka took a step to address ragging 22 years ago, in April 1998, by enacting the "Act to eliminate Ragging and other Forms of Violence, and Cruel, Inhuman and degrading Treatment, from Educational Institutions," more simply known as the 'Anti-Ragging Act'.

This legislation was introduced specifically to eliminate ragging, as detailed in the Act itself and is given to all students on admission by the UGC. It is a small, yet strong piece of legislation and covers all acts associated with the central act of ragging but there are no cases under this particular Act. The punishment is Rigorous Imprisonment up to two years with compensation for the victim. For ragging coupled with sexual harassment, it is imprisonment up to 10 years. This law has been pre-judged the law and is considered too harsh. Ragging is a complex issue but it is unfortunate that the law has taken a back seat. If the Act is not working, it can be amended but it still needs to be practiced. The main issue right now is that we're not using the law, de Silva said.


"Gendered social setting gets reinforced" –

Dr. Wijaya Jayatilaka

Speaking on the gender dimension of ragging, Dr. Wijaya Jayatilaka noted that based on the information that is currently available, most perpetrators are male. While there are female raggers as well, the males are the flagbearers and also happen to be political leaders within the university system.

"These leaders want to perpetuate compliance. To that extent, there is that gender dimension in terms of the power they use to obtain compliance," he stated. Evidence from research has pointed to the sexual nature of ragging; sexual and gender-based violence can be commonplace during the so-called 'rag season'. There is excessive power vested in the seniors which providing room for abuse of power.

When students come into the university system, they come from a very gendered social setting. Most often, females will not challenge this system, and they could feel much more disempowered than their male counterparts. This gets further reinforced within the university system. There are also not enough females to take disciplinary action. Dr. Jayatilaka contended that most students hesitate to approach staff members to seek assistance. The orientation provided for students is "grossly inadequate" and doesn't provide for any internalisation during what is a tense period.

A large proportion of students come from rural areas and find it difficult to deal with hostile senior students. As such, they can become easily vulnerable to sexual harassment in campus, he added.


"Don't hesitate to reach out to the administration" – Dharsha Udayanga

Dharsha Udayanga, a third-year undergraduate at the University of Ruhuna who underwent a harrowing experience as a fresher at the hands of his seniors, expressed the view that ragging is a societal problem. Udayanga summoned the courage to speak out against the practice, and his decision to speak up gave life to a campaign to eliminate ragging from his campus. The seniors, he recalled were initially welcoming, but later went on to put the freshers through a gruelling series of 'initiation rituals' many of which were completely de-humanising and violent. This left the victims feeling cornered. Most victims feel ashamed to share their experience; that's why perpetrators are able to get away. This is true especially for women. They feel they won't be accepted at home and that society will look at them differently, he elucidated.

"They have already faced many obstacles to get in, and the vast majority are from poor families. What will their future be? What can they do? They are supposed to be the ones who are 'educated'. They are the country's future. But the practice of ragging is destroying their future," he contended. His pithy advice to freshers was, "Don't hesitate to reach out to the administration if needed; don't let anyone manipulate you into thinking that the university staff will never help you."