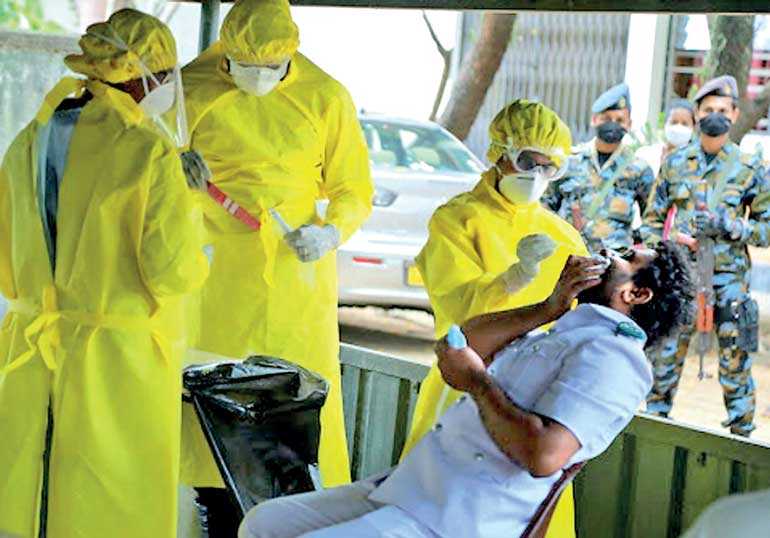 ---
352 COVID-19 patients detected yesterday, triple clusters rise to 79,089
Over 50,000 COVID-19 patients from Western Province
3,824 persons currently under medical care, recoveries rise to 78,947
---
By Shailendree Wickrama Adittiya
---
Over 800 persons tested positive for COVID-19 during the weekend, bringing the total number of patients detected in the island to 83,242.

Patients detected yesterday include 346 associates of the Peliyagoda COVID-19 cluster and four persons linked to the Prisons COVID-19 cluster. On Saturday, 425 associates of the Peliyagoda COVID-19 cluster and 35 overseas arrivals tested positive for COVID-19.

The triple clusters that emerged from Divulapitiya, Peliyagoda and Prisons have thus expanded to 79,089 patients.

According to the Epidemiology Unit, 2,056 Sri Lankan returnees from abroad, 950 Navy personnel and their contacts, 651 persons linked to the Kandakadu cluster and 181 foreigners have also tested positive for the virus to date.

Of the total COVID-19 patient count, 27,959 persons were from Colombo District, 16,556 persons were from Gampaha District, 6,127 persons were from Kalutara District, 3,899 persons were from Kandy District, and 2,233 persons were from Kurunegala District.

The district distribution of COVID-19 patients includes the 460 patients detected on Saturday, of which 62 were from Ratnapura, 59 were from Jaffna, 51 were from Gampaha, 50 were from Kandy, and 40 were from Colombo. On Saturday, 10,421 PCR tests were performed in the island.

The Epidemiology Unit adds that 3,824 persons are currently under medical care at various treatment centres. This includes 178 persons at the Warakapola Base Hospital, 175 persons at the Rambukkana Treatment Centre, and 159 persons at the Kahawatte Treatment Centre. Hospitals are also monitoring 401 persons suspected of having COVID-19. According to the Epidemiology Unit, 574 persons were discharged from hospitals yesterday, including 49 persons from the Bingiriya Treatment Centre, 49 persons from the Giriulla Treatment Centre, and 38 persons from the Padiyathalawa District Hospital. A total of 78,947 persons have recovered from COVID-19 to date.

Meanwhile, the National Operations Centre for the Prevention of COVID-19 Outbreak (NOCPCO) yesterday stated that Gafoor Road, Mohinar Lane, Sinnathona Road, and Telecom Road Off First Cross Road in the Kattankudy MOH of the Batticaloa District were released from isolation at 5 a.m. today.