The High Commission of Pakistan in Sri Lanka celebrated the 50th Defense Day of Pakistan last evening in Colombo, to commemorate the 1965 war events and sacrifices made by Pakistan's armed forces.

The event was attended by a large gathering which included Sri Lankan Ministers, the Chief of Defense Staff of Sri Lanka, Commanders of the Sri Lankan Armed Forces, High Commissioners and Ambassadors, senior officers of three segments of the Lankan Armed Forces, Government officials and prominent members of society and the Pakistani community.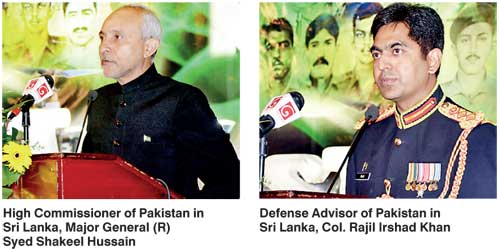 The Defense Advisor of Pakistan in Sri Lanka, Col. Rajil Irshad Khan, delivered the welcome address.

The High Commissioner of Pakistan in Sri Lanka, Major General (R) Syed Shakeel Hussain, read out a message from the President of Pakistan. In his message, President Mamnoon Hussain outlined the resolve of his nation to protect the sovereignty and security of Pakistan at all costs and said that the country was fully aware of the existing environment.

President Hussain reiterated that Pakistan was a peace-loving country and it wanted peace in the region. However, he stated that Pakistan's desire for peace should not be misinterpreted as a weakness. He said the Pakistani nation and its armed forces could go to any extent in securing its borders and safeguarding its sovereignty.

The President emphasised that the lesson learnt from the 1965 War was that unity, commitment, courage and a sacrificial spirit, if combined, could make a nation invincible and its defence impregnable.

He said that the Armed Forces of Pakistan maintained the highest standards of professionalism and were equipped for modern warfare with traditional courage and commitment. He added that they were successfully braving all challenges and frustrating enemy designs on both the internal and external fronts.

President Hussain underscored that Pakistan, together with the armed forces and civil, military security, law enforcement and intelligence agencies, stood united against terrorism. He emphasised that the successful Zarb-e-Azb operation led by armed forces had proved that any sort of threat posed to the country's security and existence would be repelled.

Later, Sri Lanka's Finance Minister, along with the Secretary of Defence, Chief of Defence Staff, Commanders of the Sri Lanka Army, Air Force, High Commissioner and Defence Advisor cut the cake at the occasion.

The Sri Lankan Army Band entertained the invitees with several songs from Pakistan.

The day is observed on 6 September every year as people pay homage to those who sacrificed their lives during the Pakistan-India War in 1965.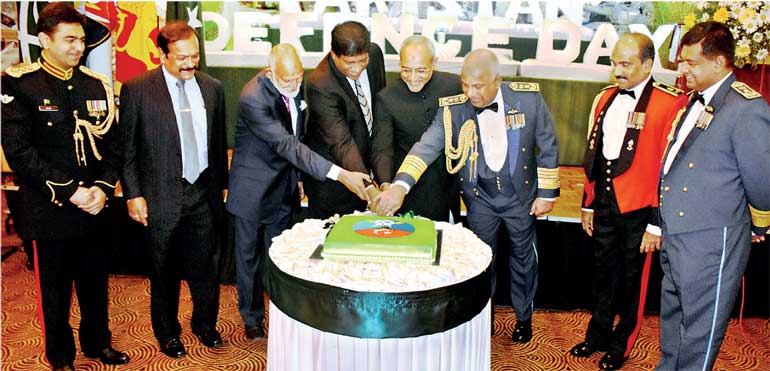 The distinguished guests at the event cut the cake