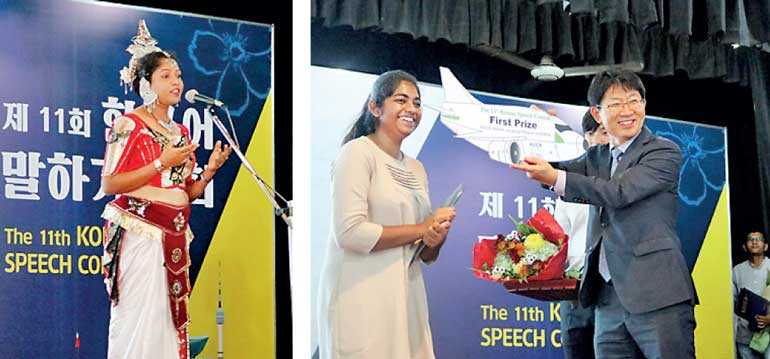 The 11th Korean Speech Contest organised by KOICA Office in Sri Lanka, was held on 13 October at the Auditorium of Colombo Public Library. Ministry of National Policies and Economic Affairs Additional Director General N.R. Anees, KOICA office in Sri Lanka Country Director Lee Dong Ku and other dignitaries participated in the event. For this year, there were around 12 candidates from all parts of the island.

A total of 12 contestants who passed the preliminary test showed their proficiency in Korean speaking on several themes to the audience. In addition, Korean Culture Expo and K-Culture Videos display made festival an unforgettable event for participated Sri Lankans.

As social, economic and cultural exchange between Korea and Sri Lanka is recently expanding, Sri Lankans' interests on Korea are also growing. Under its circumstance, KOICA has been organising this event for more than 10 years to promote Sri Lankan people's awareness of Korean Language and its culture; thereby accelerating cultural exchange between two countries.

"More Sri Lankan young people who learn Korean language and understand Korean culture in more depth can devote in enhancing the close relationship between the two countries by sharing Korean development experience," KOICA Country Director Lee said.

The contest is being held annually as a part of KOICA volunteers program designed to strengthen Sri Lanka's human resources development and exchange mutual culture between two countries. Currently there are more than 50 KOICA volunteers serving at colleges, universities, colleges of technology, technology colleges, etc. throughout the island.