13 new patients identified, 439 active COVID-19 patients under treatment
26 released from quarantine centres after being subjected to PCR tests
Total of 4,087 remain quarantined in 40 centres
250 sailors released after recovery, 334 remain under care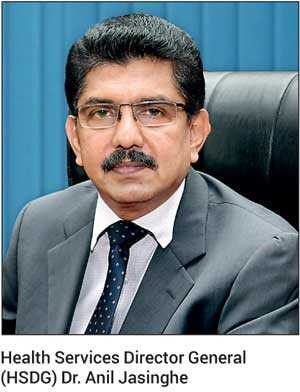 By Asiri Fernando

Sixteen COVID-19 infected patients recovered yesterday, raising the total number of recoveries to 620, but 13 new patients also tested positive, raising the total number of confirmed cases to 1068, health authorities said.

The Government also declared an islandwide curfew from 8 p.m. tonight till 5 a.m. Tuesday (26 May) morning.

The pre-existing 8 p.m. to 5 a.m. curfew will continue in 23 districts from Tuesday while the Colombo and Gampaha districts will remain under curfew with residents allowed to attend to essential duties based on the last digit of their National Identity Cards.

According to the Epidemiology Unit of the Health Ministry, 439 infected patients are undergoing treatment at eight specialised hospitals countrywide. Due to 620 patients recovering, Sri Lanka recorded a 58.6% recovery rate as of last evening. A total of nine patients have succumbed to the virus so far.

A total of 584 sailors had tested positive for the virus since the first Navy patient was identified on 22 April, the National Operations Centre for the Prevention of COVID-19 (NOCPC) said in a press release. A total of 334 Navy personnel remain under care as of last evening while 250 had recovered and were discharged from care after being subjected to PCR tests, the NOCPC added. The recovered sailors were placed under a further 14-day quarantine program as a precautionary measure, the Navy said.

NOCPC reported that no COVID-19-infected patients were found from the community outside those quarantined and isolated at the Welisara Camp, even though sample PCR tests were conducted at random.

A total of 26 persons who completed the quarantine program at three centres were released and returned home for a further 14-day self-quarantine after being subjected to PCR tests. According to the NOCPC, 10,289 persons have completed quarantine at quarantine centres run by the armed forces. An additional 4,087 remain in quarantine at 40 centres island-wide.

A special flight was expected to repatriate 275 Sri Lankans from Moscow in Russia last night. The repatriated persons will be moved to quarantine centres upon arrival after being subjected to medical check-ups, the NOCPC said.

Of the 27 persons who tested positive for COVID-19 on Thursday (21 May), 16 were reported from quarantine centres where repatriated Sri Lankans where housed. A total of 15 returnees from Dubai and one from Kuwait made up the 16 positive cases, while 11 were sailors from the Welisara Navy Station.