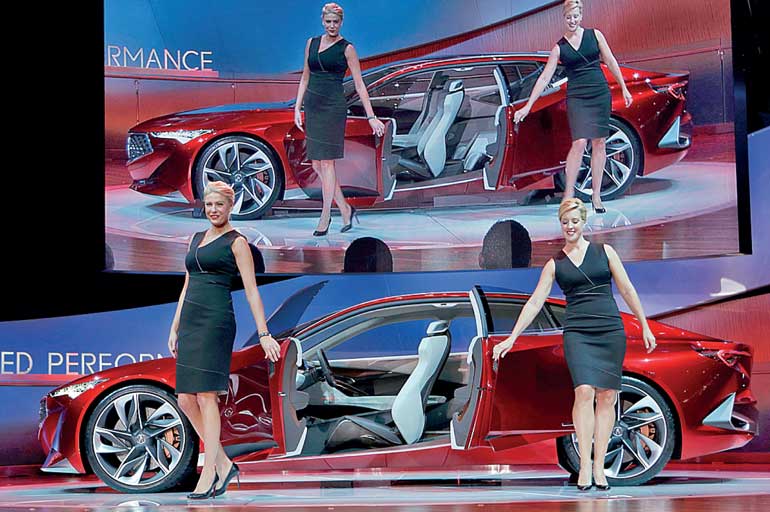 Models help display the Acura Precision concept car at the North American International Auto Show in Detroit, Michigan 12 January, 2016. REUTERS/Rebecca Cook
Reuters: As part of a broader makeover, and even the survival, of its stalled luxury Acura brand, Japan's Honda Motor Co will launch a new small crossover sport utility vehicle this year in China to compete with BMW and Audi in the world's biggest car market, two individuals closely involved in the effort said.

Reviving Acura is one of the biggest challenges facing Takahiro Hachigo, who took over as Honda CEO last year. The brand has struggled to carve out a clear identity as a sporty, high-performance luxury label.

Since entering China a decade ago, Acura has struggled, selling just over 4,000 cars last year compared with BMW's 460,000 and Audi's 554,000. And in the United States, where Acura debuted three decades ago, sales have failed to top the 201,000 cars it sold as far back as 2006, according to industry consultant IHS. Sales last year were 179,000, around half the number of cars sold by both BMW and Toyota Motor's Lexus luxury marque.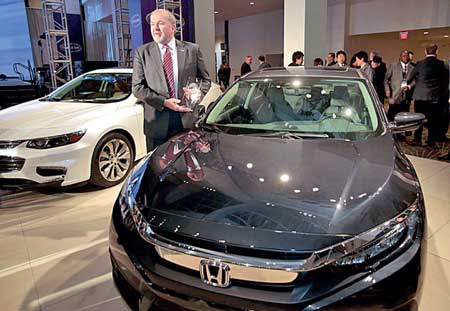 John Mendel, Executive Vice President of Honda, accepts the Car of the Year Award for the 2016 Honda Civic at the North American International Auto Show in Detroit, Michigan

11 January, 2016. REUTERS


That revival effort will kick off with production mid this year of a China-only subcompact crossover SUV at a jointly-run plant with Guangzhou Automobile Group. The new model will have a "crisp, more expressive" style - the result of four years of effort by Honda product planners and engineers - said the two individuals, who asked not to be named as they are not authorized to speak to the media.

"We don't have a strong brand with Acura in China. Our next move could be make or break," one of the individuals said. A Beijing-based Honda spokeswoman said the new Acura crossover SUV is being developed specially for China and demonstrates the company's commitment to that market. One of the knowledgeable individuals said Acura's China sales unit reckons it could eventually sell about 30,000 of the new crossover SUVs a year.

But the new model's significance goes beyond China, with the styling of the China-only car highlighting the signature feature of a broader Acura makeover.

While the under-wraps China model is unlikely to be unveiled before the Beijing autoshow in April, hints of the new Acura styling should be on show in Detroit on Tuesday.

In an e-mailed response to queries, California-based Honda spokeswoman Jessica Fini declined to comment on Acura's product plans, but noted a new concept model to be unveiled at the Detroit autoshow "previews the (brand's) future design direction," and "expresses performance through design".

Honda's leadership, already battling a crisis over potentially lethal air bags made by supplier Takata Corp, is aware that a failed makeover could render Acura a "Mercury of Honda," one of the individuals said, referring to the entry-level luxury brand Ford Motor Co killed off in 2010 after years of dwindling sales.

Part of the Acura identity issue is that there is little to differentiate between the upscale brand and mainstream Honda cars, with a quiet recognition inside Honda that Acura cars are in many cases merely "re-badged" Honda cars, the two individuals said.

"Styling cues in Honda and Acura cars have become more and more common," said one of the knowledgeable individuals. Some Honda cars' strong character lines, he said, are often quickly borrowed by Acura, or the other way around, giving both brands a "family resemblance".

"Where's our discipline in that?" he said.

The new styling direction under Acura's global design chief Dave Marek will allow Acura to have a new, more sporty look, the people said, making it stand out from Honda models.

"No more smiley face," one of the two people said, referring to a common perception of the Acura look. "If you want to be a performance oriented brand, you should not come across as a clown. You should be serious, even mean," he added.

Beyond styling, the new Acura model for China is likely to pack more luxury technologies and features, boasting a turbo-charged, 4-cylinder engine and 10-speed automatic transmission, giving it a "more lively character and a spirited and engaged driver feel," said one of the individuals, adding it was aimed at taking on rival BMW X1 and Audi Q3 models.

Honda wants Acura to compete better in China's growing market for small, premium crossover SUVs market, but acknowledges its cars need more "upscale quality" - through seemingly small improvements such as the sound the doors make when they are closed, the people said.

The new subcompact crossover will be loosely based on Honda's existing Vezel and HR-V SUVs that are sold around the world. Acura is sold in only two major markets, China and the United States, with limited availability also in Canada and a few other countries.