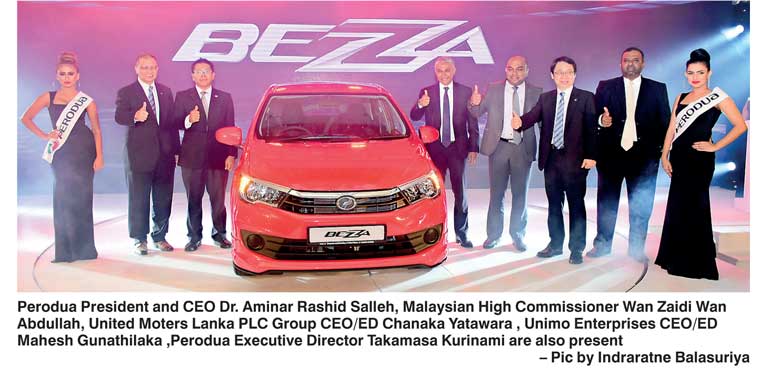 Unimo Enterprises Ltd., a fully-owned subsidiary of United Motors Lanka PLC and the authorised distributor for Perodua vehicles in Sri Lanka has unveiled the latest addition to its family of technologically advanced, user-optimised and luxurious range of vehicles. The 'Bezza' from Perodua is the brand's first Energy Efficient Sedan (EEV) and is the ideal sedan for the modern discerning vehicle enthusiast.

The unveiling took place at the King's Court, Cinnamon Lakeside under the patronage of the Malaysian High Commissioner in Sri Lanka Wan Zaidi Wan Abdullah, Perodua President and CEO Datuk (Dr.) Aminar Rashid Salleh and Perodua Executive Director Takamasa Kurinami.

Speaking at the launch United Motors Group Chief Executive Officer/Executive Director Chanaka Yatawara said, "Unimo has a longstanding relationship of almost two decades of representing Perodua in Sri Lanka. Throughout these years we have introduced highly successful models such as the Kelisa, Viva and Axia to local vehicle enthusiasts who have come to trust Unimo Enterprises Ltd. for the product quality and levels of service on offer through an island-wide branch network and service dealers. The Bezza is not just the first EEV Sedan from Perodua but also the first compact sedan that promises to be different from any other sedan you have driven before."

The keys to the first fleet of vehicles were presented to proud owner Mahesh Mallawarachchi Associates by distinguished guests Datuk (Dr.) Aminar Rashid Salleh accompanied by Takamasa Kurinami, Chanaka Yatawara, and Unimo Enterprises Ltd. Chief Executive Officer and Executive Director Mahesh Gunathilaka.

The 'Bezza' which when spelt with one 'z' means 'different' in Malaysian is a true indicator of the evolving vehicle market globally. Trends from across the world suggest a paradigm shift to lower engine capacity, energy-efficient yet high performance vehicles. The 1000cc Bezza has won many accolades including the Malaysian Car of the Year in 2016, Asean NCAP Grand Prix Award in 2016, and the Carsifu Editor's Choice Award for the Best Family Ride of the Year in 2016.

With four-speed automatic electronically controlled gear systems, aerodynamic design for fuel efficiency and a spacious ergonomically designed interior the Bezza is truly a revolutionary first for Perodua. Backed by the quality standards, and research and development of global vehicle giants Daihatsu, the Perodua Bezza also comes with an attractive price tag of just Rs. 3.69 million.

Keeping in mind the evolving requirements of modern day vehicle owners, the Bezza's design includes a large boot space of 508L and additional under luggage compartment of 12L. The vehicle comes equipped with 8 spoke 14" alloy wheels, multi information display and reminder indicators, a convenient and practical side snap hook and shopping hook, power mirror and power shutters and a complete entertainment system. Its safety features including the dual airbags, Anti-Lock Braking System (ABS) and Electronic Brake Force Distribution (EBD) system have won it NCAP's four star safety rating.

Built upon Perodua's trademark quality, reliability, value and care, the vehicle will be marketed in Sri Lankan with a two years/50,000km manufacturer's warranty. Available in red, white, silver and black, the Bezza will be on display at Unimo 100, Hyde Park Corner, Colombo 2 and showrooms island wide in Anuradapura, Kandy, Kurunegala, Matara, Nugegoda, Badulla, Ratnapura and Jaffna. For more information please contact 0773 647143.