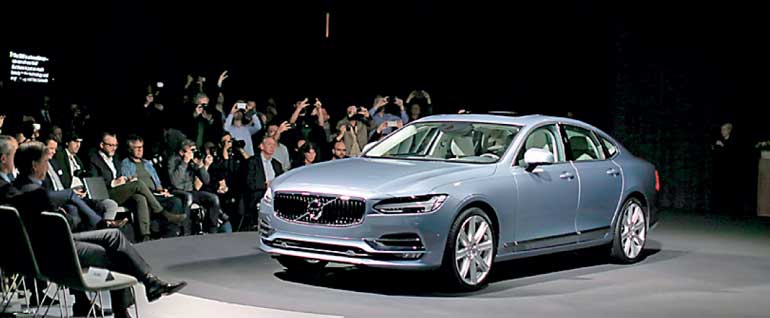 A new Volvo S90 car model is seen during a media event by the company in Gothenburg, Sweden last week. REUTERS
GOTHENBURG, Sweden, (Reuters): Chinese-owned Volvo Car Group has launched a new model in the hope of gaining ground in a premium auto market dominated by German luxury rivals, and said it expected sales of the new car to hit roughly 50,000 in 2017.

Volvo is in the midst of a sweeping overhaul of its model range to propel long-suffering sales volumes in the United States back above 100,000 cars per year, to reach total sales of around 800,000 cars in 2020 and make inroads against larger rivals such as Daimler's Mercedes-Benz, BMW and VW's Audi.

The Swedish car maker gave a preview on Wednesday of the S90 sedan, facing high expectations after Volvo's new flagship SUV, the XC90, helped boost sales in recent months despite a slowdown in demand in China, the world's biggest auto market.

It will be delivered as a petrol, diesel and plug-in hybrid car.

"You need the sedan to be serious in the premium market," Chief Executive Hakan Samuelsson told reporters, adding 2016 would be a ramp-up year with about 15,000 S90 sedans produced.

"We will have around 50,000 when we have full production of the car."

Samuelsson said he still expected a substantial improvement in earnings this year from the 2014 operating profit of 2.25 billion Swedish crowns ($ 259 million), adding sales had so far been unaffected by VW's emission scandal.

Diesel engines have been in the spotlight since Volkswagen admitted in September it had installed software in up to 11 million diesel vehicles worldwide that understated their emissions of smog-causing nitrogen oxides.

"So far we haven't seen anything in our numbers, but this will be a huge discussion in the business in the future," Samuelsson said.

Total sales at Volvo, bought by China's Geely from Ford in 2010, are up 5% so far this year at 441,002 cars, driven by strong demand for the XC60 and XC90.