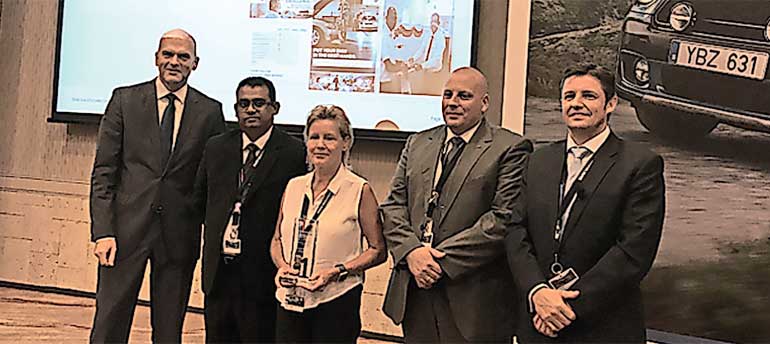 Award for 'Best Customer Satisfaction Service Performance – 2016. From left: BMW Asia Managing Director Axel Panes, Prestige Automobile Parts Manager Sanjeewa Huruggamuwa, Prestige Automobile Aftersales Gudrun Stagen, Prestige Automobile Director Aftersales Volker Arnkens and BMW Asia Director Aftersales Brett Hocking
Prestige Automobile Ltd., the sole importer and distributor for BMW, MINI and latest BMW i vehicles in Sri Lanka, won two major awards inclusive of the award for 'Best Customer Satisfaction Service Performance-2016' out of the four awards at the annual Aftersales Conference – BMW Group Asia held in Singapore from 7 to 9 March.

The company won the two awards, 'Best Customer Satisfaction Service Performance – 2016' and 'Best Accessories Performance – 2016' defeating 17 other South East Asian countries like Singapore, Malaysia, Philippines, Vietnam, Cambodia, Tahiti, Indonesia and Myanmar for the outstanding achievement of the team at the Prestige Automobile.

"It is a challenge to be victorious after competing with countries like Singapore, Philippines and Vietnam. We care about all our customers by providing the best service to them. Our Aftersales team together with the call centre which was established in April, 2015, stands ready to ensure that not a single customer goes unnoticed," said Volker Arnkens, Director – Aftersales of Prestige Automobile.

The BMW, which is highly conscious about its customers, measures customer satisfaction via an online survey. Prestige Automobiles submits details of the customer inclusive of their email addresses to BMW so that BMW could invite the customer for a survey via email.

Whether a customer would recommend the Service Center to other service receivers of BMW, the reliability-whether the service provider fulfills the task on time, the quality of the service, details of information on the repairs so a customer could make a decision, explanation of charges, friendliness of the service team and up-to-date service are some of the categories rated by the customer and evaluated by BMW to measure customer satisfaction.

Prestige Automobile Aftersales Director Arnkens said customers were given the opportunity for a verbatim at the end of the each question and in general, so that they could provide additional information, if they have any.

Prestige Aftersales Team
"Also, we hold quarterly meetings with the colleagues from BMW Asia to go through all topics we have and develop action plans in which we also include the valuable feedback we receive through the verbatim and rating from our customers," Arnkens said.

Alternative mobility solution-which is i.e. providing a taxi for customers, financial supported vehicles- special rates on rental cars, meal vouchers for both driver and customer and sending service reminders to notify the customer when the service is due are some of the special facilities enjoyed by the BMW customers.

Arnkens said Prestige Automobile Call Centre contacts the customers following a repair so as to make sure the repair was completed accurately.

Prestige Automobile Ltd., which was established in 1994, has today expanded with a workforce of more than 150 under the leadership of its Chairman Heinz A Reuter, who is also the founder of the company.

Prestige Automobile re-introduced MINI vehicles to the Sri Lankan market back in 2014, October and introduced BMW i series in 2016, January.

BMW, the most premium brand in the automobile trade, is a symbol for sporty and luxury class worldwide and stands for technical innovations combined with driving pleasure and lifestyle.

"In Sri Lanka, the car park of BMW vehicles amounts to more than 3,000 and the numbers are growing year by year. There is an old saying, 'The first car is sold through sales, all following cars are sold through aftersales'. It shows the importance of providing a comprehensive and a high-quality aftersales service," Arnkens said.