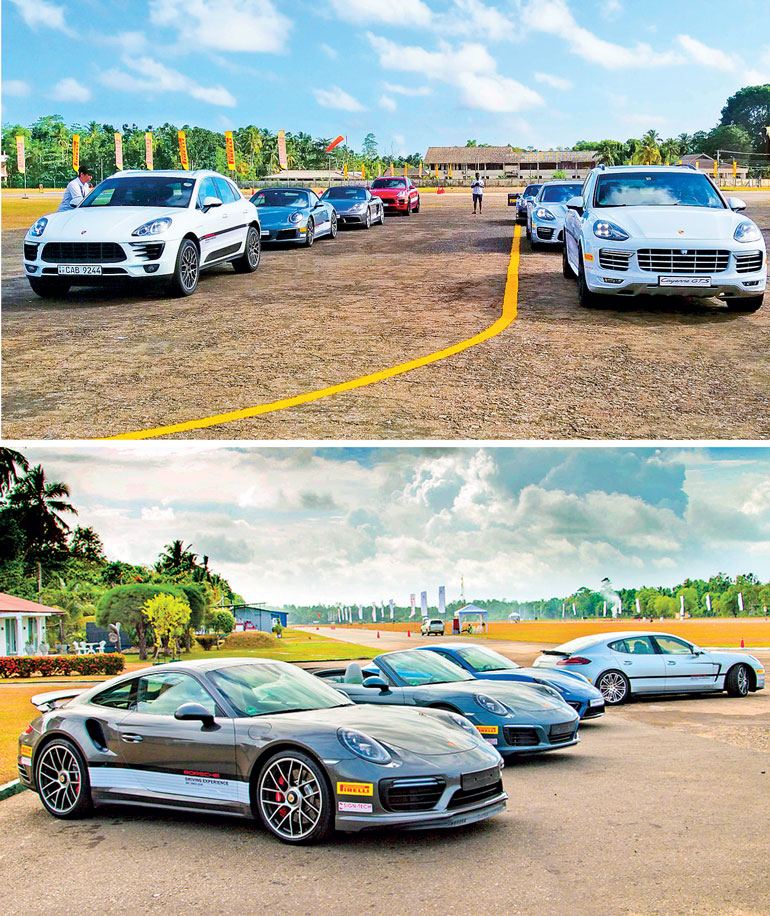 By Daminda Harsha Perera

The Porsche Driving Experience 2016 was an exhilarating and rare experience which gave a select few the opportunity to ride six different cars of the highest sophistication manufactured by Europe's top carmaker.

The daylong event was held at the Katukurunda racetrack of the Sri Lanka Air Force on 17 and 18 September. For drivers who were lucky to be among those selected to drive the cars, it turned out to be the ride of a lifetime.

The riders were categorised into four groups, namely green, yellow and red and during the first half of the day they were given training by a group of instructors which included two Malaysians and three Sri Lankans. The drivers were given a briefing about each vehicle and its unique features before they were put behind the wheel.

The track was laid out with cones indicating the direction which had to be taken as well as points at which the drivers would have to slow down, turn, etc. A walkie-talkie was kept inside each vehicle so that the instructors could continue to give instructions to the new drivers. Emphasis was laid on seating position, lane change, cornering lines (handing), acceleration, braking, slalom (zig-zag between obstacles) and circuit.

The cars that were included in the Porsche Driving Experience included the 911 Turbo, 718 Boxster, Cayman GTS, 911 Carrera 4S Cabnolet, Macan GTS and Cayenne GTS. The vehicles were allocated to the drivers after drawing lots.

The acceleration speeds of the vehicles provided for an exhilarating experience, with them zooming from zero to 100 km/h in four to five seconds while maintaining excellent manoeuvrability.

The official agent for Porsche cars in Sri Lanka is Eurocars Ltd., a subsidiary of IWS Holdings, and the driving experience is being conducted over the course of two weekends – the first was on 17 and 18 September and the second will be on 8 and 9 October – with Eurocars Ltd.