Further expanding its island-wide coverage, LAUGFS Eco Sri recently launched its 87th Fixed Vehicle Emission Testing (VET) centre in Moratuwa. The new VET centre will service motorists in the Moratuwa and surrounding suburbs, providing them with the convenience of hassle-free vehicle emission testing.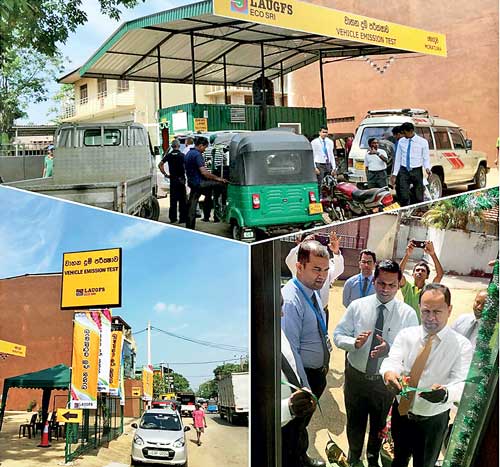 The event took place with the participation of Eco Sri DGM – Administration Daham De Silva, together with the management team. Speaking on the launch of this newest centre and its benefits to the environment, De Silva explained, "The establishment of a VET centre in Moratuwa will allow motorists with the convenience of fast and easy access to vehicle emission testing in a more efficient and comfortable setting. Not only will this centre save motorists valuable time, it will also expedite the testing process and ensure vehicles are accurately assessed. Our aim is to provide faster, more convenient service for motorists not only to obtain their VET certifications, but also to create awareness on the importance of effective maintenance of vehicles to improve performance efficiency in terms of improved petrol consumption, enhanced engine performance, reduced maintenance costs and increased vehicle durability."

Elaborating on the importance of obtaining regular emission testing certifications, De Silva further added, "The mandatory vehicle emission testing program is implemented and monitored by the Department of Motor Traffic (DMT) in collaboration with Air Resource Management Centre (AirMAC) and the Ministry of Environment. We believe this plays a critical role in enhancing the quality of air in Sri Lanka, which is increasingly becoming polluted due to high number of vehicles operating in the country. By keeping the levels of vehicle emissions under control, we are also able to mitigate health risks such as respiratory hazards, while contributing to environmental preservation. Therefore, we urge all motorists to be more mindful of emissions and carry out regular maintenance of vehicles to ensure emissions are minimised."

He further added, "It's not possible for us corporates or the Government alone to do this task, but it requires a voluntary action from motorists to keep their vehicles' emission levels down."

Eco Sri, a subsidiary of LAUGFS Gas PLC, is a pioneer in air quality management in Sri Lanka. Since the opening of the country's first ever vehicle emission testing centre in Gampaha in 2008, it has expanded rapidly with 87 fixed VET centres and 27 mobile testing units, serving over 150 locations across the country. Offering the latest in emission testing technology and state-of-the-art equipment, the Eco Sri VET centres deliver superior customer service, with assured quality and proven efficiency.