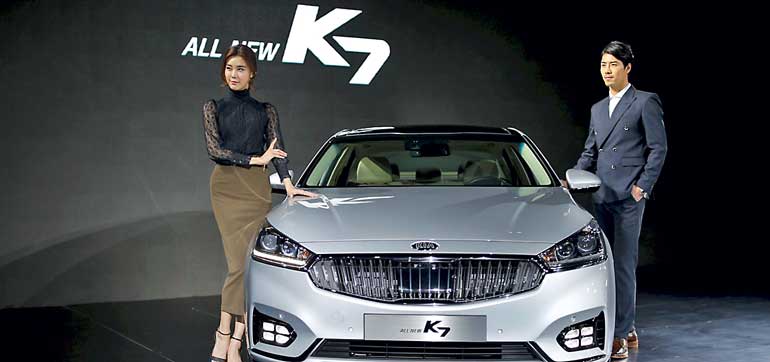 The Kia Motor's new K7 during its unveiling ceremony last month in Seoul, South Korea - REUTERS
Reuters: Kia Motors plans to launch its first sports sedan next year, people familiar with the matter told Reuters, seeking to burnish a sporty, younger image as larger sibling Hyundai Motor builds up its premium offerings.

Kia aims to start producing the sedan, codenamed CK, in May 2017 and will target annual output of 60,000 vehicles, said the informants, declining to be identified as the plans have not been made official.

The four-door model plans to take on BMW's 4 series as well as the Audi A5, and will feature 2.0-liter, 2.2-liter and 3.0-liter engine options, one person said, adding that it will be Kia's second rear-wheel drive car.

Once known for cheap and bland models, both Hyundai and Kia are keen to move upmarket as their cars gain traction with consumers but differentiating their brands has been and will continue to prove a challenge.

Hyundai, which owns 34 % of Kia, launched standalone luxury brand Genesis last year making it difficult for Kia to compete in that segment, particularly as its lone luxury offering, the K900, has been met with a tepid response from consumers.

"As Kia has no luxury brand, it is trying to position itself as a sporty brand," said a third person with knowledge of the planned new model.

A Kia spokesman declined to comment, saying the company did not comment on plans for new models.

The new car, smaller than Hyundai's mid-sized Genesis Coupe, would be the first compact sports sedan from either firm. It will be made at a Kia factory near Seoul after some production of the lower-margin Rio small car is shifted to Mexico early next year, the sources said.

But carving out its own sporty niche could be tricky for Kia with Hyundai also expected to launch a sports sedan and a new sports coupe under the Genesis brand. Hyundai is also believed to be working on high performance variants of some models from both the Genesis and Hyundai marques in effort led by Albert Biermann, former chief engineer for BMW's "M" performance car brand.

Kia has hopes of a sports car that could replicate the success of its boxy Soul, which represented the start of a design-driven turnaround under chief designer Peter Schreyer, a veteran of Audi. The automaker has since introduced several sporty sedan concept vehicles including the GT and the Novo. "Kia hit a home run with the Soul - they figured out how to keep it fresh and fun," said Dave Sullivan, product analysis manager at consultancy AutoPacific.

"Apply this formula to a rear-wheel drive sedan and they might be able to go after a younger consumer who is bored with the played-out BMW 3-Series but wants to move out of the Soul they have had since college," said Sullivan, who is based in Ann Arbor, Michigan.