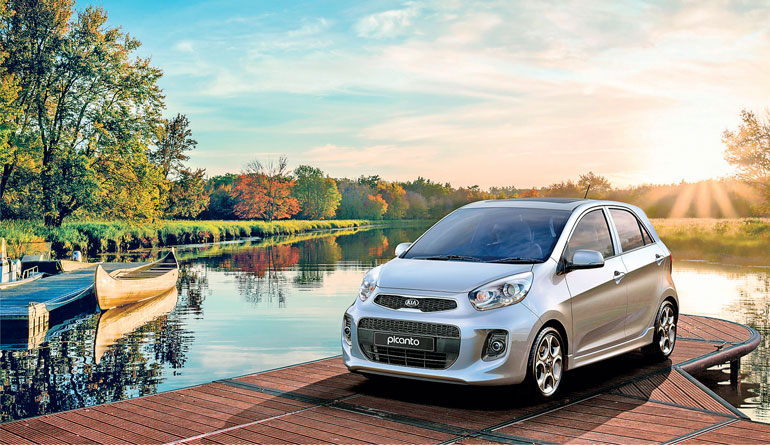 Korean carmaker demonstrates its 'Power to Surprise' with a first in Sri Lanka's automobile market
Kia Motors (Lanka) Ltd. has broken new ground in Sri Lanka's automobile sector by offering the first five-year manufacturer's warranty on cars sold in Sri Lanka.

Applicable to Kia's class-leading Picanto compact urban cars sold from 1 October onwards, the warranty is valid for 150,000 km or five years from the date of purchase, whichever comes first, the company announced.

"As a design and performance-driven brand, Kia constantly improves and fine-tunes its vehicles as part of its commitment to value addition," said Kia Motors (Lanka) Ltd. Managing Director Mahen Thambiah. "The new five-year warranty on the Picanto – our small car grown up – reflects this commitment, even at a time when the local automobile market is facing challenges. The extended warranty also demonstrates how much the brand has evolved in quality aspects and the degree of confidence we have in the product. In some parts of the world, Kia even offers a manufacturer's warranty of seven years across its model range."

In addition to its extended warranty of five years, the new Kia Picanto has been certified with an Environmental Certificate by TÜV Nord, an independent technical inspection organisation and has received ISO 14040 Life Cycle Assessment (LCA), as have Kia's new Rio and Optima, endorsing its eco-friendly credentials.

The redesigned new generation Picanto launched in Sri Lanka in March this year represents a refinement of the revolutionary motoring design and superlative performance associated with the award-winning model. Powered by a one-litre (998cc) Gasoline Inline three-cylinder engine, the zippy five-door Kia Picanto is available in five optional packages, starting from the five-speed manual to the four-speed automatic transmission and the high-end sports package.

The model's characteristic stand-out styling that exudes solidity and maturity has been backed up with advanced safety features including dual airbags and an anti-lock brake system (ABS), eco-friendly technology and an array of class-leading personalised options. Standard features include iPod AUX and USB connectivity, motor driven power steering and tilt steering system, an audio system with a radio and CD player and a security indicator.

A maker of quality vehicles for the young-at-heart, Kia Motors Corporation (www.kia.com) was founded in 1944 and is Korea's oldest manufacturer of motor vehicles. Over three million Kia vehicles a year are produced in 10 manufacturing and assembly operations in five countries which are then sold and serviced through a network of distributors and dealers covering around 150 countries.

Kia Motors Corporation's brand slogan, 'The Power to Surprise', represents the company's global commitment to surprise the world by providing exciting and inspiring experiences that go beyond expectations.