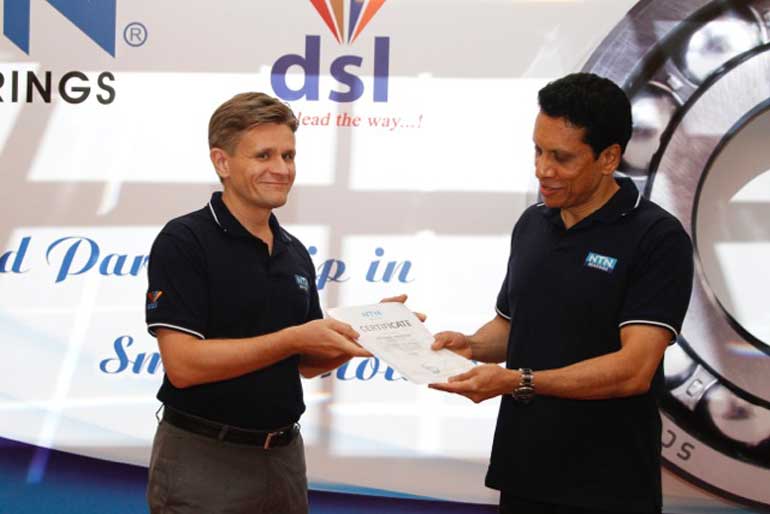 NTN Bearing Singapore Managing Director Mathieu Ollier presenting certificate of distributorship to DSL Chairman/Managing Director Saroj Perera
The world-renowned bearing manufacturer NTN of Japan, recently joined hands with Douglas & Sons Ltd. (DSL), the leader of Sri Lankan auto parts market, where DSL was named the authorised distributor for NTN, to better serve our motorists who hold reliability and cost efficiency at utmost, when it comes to the selection of precision parts.

Douglas & Sons Ltd recently launched the technologically advanced NTN bearing in Sri Lanka at a ceremony held at The Kingsbury Hotel, Colombo amidst a gathering of prominent auto part and industrial spare part dealers of DSL. The ceremonial launch was officiated by NTN Bearing Singapore Ltd Managing Director Mathieu Ollier, DSL Chairman/Managing Director Saroj Perera and NTN Bearing Singapore Ltd. Manager Greg Tan.

NTN is one of the world's largest bearing producers. With manufacturing plants throughout the world, NTN is a leading bearing supplier to both the industrial and automotive markets. In addition to bearings of all sizes and types, NTN is also one of the largest producers of constant velocity joints, a key component for automobile drive-trains. NTN is also a leader in the development of precision equipment in cutting-edge fields.

Founded in 1918, NTN has almost 100 years of experience in manufacturing bearings. Headquartered in Osaka, Japan, NTN employs more than 18,000 employees working in 27 countries with sales, engineering, production and service networks throughout Japan, the Americas, Europe, Asia and China.

NTN is a precision equipment manufacturer that develops businesses worldwide with its mainstay product of eco-friendly bearings that control energy consumption by reducing friction.

Adding new technological value to its bearings of all types and sizes, NTN markets its products to a range of automotive and industrial machinery sectors. The industrial machinery sector includes construction machinery, rolling stock, machine tools, agricultural machinery, aerospace, office equipment and wind turbines. The automotive sector covers bearings for automotive and automotive-related parts.

NTN is a major OEM supplier of bearings to all prominent motorcar manufacturers in Japan and throughout the world. With the main products of hub bearings, constant-velocity joints and needle roller bearings, NTN provides the world's automotive and automotive-related companies with new technologies and products. They are now focusing on the development of EV (electric vehicles) related products.

Douglas & Sons Ltd. (DSL) is the authorised distributor in Sri Lanka for world renowned NTN bearings. The leader in auto parts, tyres, and the imported battery market in Sri Lanka, DSL has the authorised distributorship of numerous world-renowned brands in tyre, battery and auto parts segments. The company has been providing Sri Lankan customers with prestigious international brands of auto parts such as NGK spark plugs, Exedy clutch, Mitsuboshi belt, 555 suspension parts, LuK clutch, Meritor axle parts, Gabriel shock absorbers, Wabco air brake parts and NOK oil seals etc.

DSL has been the leading entity in the imported tire market in Sri Lanka for 18 consecutive years. Attributing to the significant aspect of delivering the best and the safest products to Sri Lankan motorists, DSL has become the authorised distributor for continental brand tires in Sri Lanka. Apart from auto parts and tyres, DSL also imports batteries, retaining their position as the market leader in each of these segments. Going along with the company policy of providing Sri Lankan customers with products of best quality, DSL has imported a wide range of NTN bearings, which are now available with the island-wide dealers of DSL.