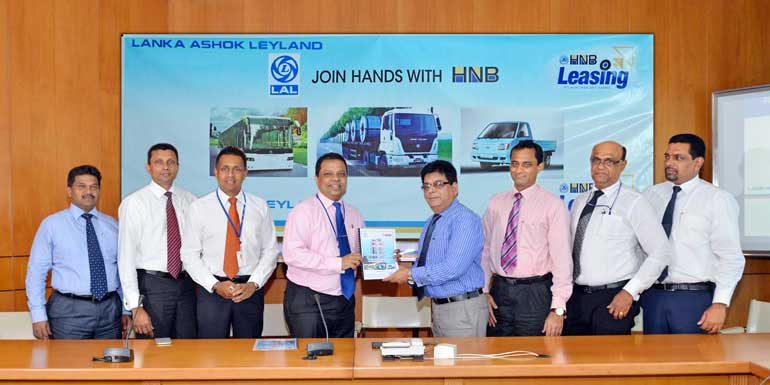 From left: HNB Manager – Business Development (Leasing) H.M. Aziz, HNB Senior Manager – Leasing Kanchana Karunagama, HNB Deputy General Manager – Retail & SME Banking Thimal Perera and HNB Managing Director/CEO Jonathan Alles;

Lanka Ashok Leyland Managing Director/CEO Umesh Gautham, Lanka Ashok Leyland Deputy General Manager – Imports Vipin Ohari, Lanka Ashok Leyland Manager – Marketing Sumith Rajapaksha and Lanka Ashok Leyland Manager – Marketing A. Paranidaran
Hatton National Bank (HNB), the premier bank for leasing, has joined hands with Lanka Ashok Leyland, the market leader for commercial vehicles, for the first time to offer unmatched leasing packages to customers.

A host of benefits and value additions await buyers of brand new Ashok Leyland buses, trucks, tippers and special vehicles such as concrete mixers and freezer trucks through HNB Leasing. This tailor made leasing package includes a life insurance cover of Rs. 2 million and an HNB credit card with the first year annual fee waived off, along with options such as Residual Value/Flexi Plan, Top up/Enhance, Cash Back and My Dream.

HNB and Ashok Leyland have launched this joint promotion to provide their customers a cost effective solution to develop their business by combining the strengths of both companies. Ashok Leyland holds a 60% share in the commercial vehicle market and has put out more than 45,000 buses and trucks onto Sri Lankan roads over the past 30 years. HNB was the first bank to offer leasing in Sri Lanka in 1990 and celebrates the 25th anniversary of that pioneering effort this year as the undisputed market leader.

This collaboration ensures that the customer is the true winner as he is assured of world class commercial vehicles from Ashok Leyland and unmatched leasing offers from HNB, guaranteeing value for money, reliability and a hassle free service. Furthermore, the staff of HNB will provide an efficient service to customers who visit the 249 HNB Customer Centres around Sri Lanka.

Ashok Leyland was launched in 1982 and started operations as a joint venture between Lanka Leyland Ltd and Ashok Leyland Ltd in India the following year. It imports commercial vehicles and carries out assembly operations, repair, service, body building on chassis and other developments to progressively build up ancillary industries locally.

Hatton National Bank has been awarded by the Asian Banker Magazine as the 'Best Retail Bank in Sri Lanka' for seven years for its performance from 2007 to 2012 and in 2014 and named as the 'Bank of the Year in Sri Lanka' for the year 2012 & 2013 by the Banker Magazine of UK. In 2012 HNB became the first Sri Lankan bank to obtain an international credit rating and was assigned a foreign currency issuer rating of B1 on par with the sovereign rating by Moody's Investors Service, while it has a national long term rating of AA- (lka) by Fitch Ratings (Lanka) Ltd.