Future Automobiles, sole agent for Ford vehicles in Sri Lanka, formally launched the Ford Service A-Team this month, entrusting the task of delighting customers through after care to a five member panel of senior executives.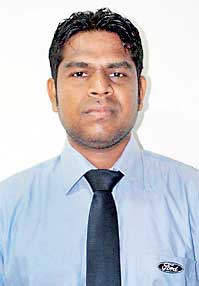 After care has seen a revamp signaling the intent and focus of new CEO, Chamath Tennekoon, who sees service as the key criterion in winning customers and has taken steps to identify, address and offer solutions to key service demands of faithful Ford owners.

He set the new initiative off when he penned a personal letter presenting the Ford Service A-team to current Ford owners. The missive, which contained names and contact numbers of the appointed executives and encouraged Ford owners to call them directly, also made mention of improved facilities and services available under one roof at the Future Automobiles showroom complex near the new Parliament in Kotte.

"The brand name Ford is synonymous with luxury and engineering prowess. "Built Tough", Ford models feature a wide range with a long record of stellar performance. As a brand Ford is world renowned, available in most geographical markets around the world".

"I am focusing on enhancing our after sales services such as service delivery standards and turn-around-time, a better balance of forces between sales and after sales if you may.We have assembled the best possible after sales team to not only meet present demands but also to support top-end models due to launch in 2016. A brand needs both sales and after sales excellence to succeed in these tumultuous times," said Tennekoon.

Future Automobiles is a member of the diversified publicly quoted conglomerate Softlogic PLC, and the brand Ford looks to have gained through this association. The showroom, for instance, one of the largest vehicle showrooms in the island, is custom designed and houses the company's administrative offices, after care and service facilities, spares, as well as accounts, sales and marketing divisions.

" To Ford owners, it's a genuine one stop shop, everything under one roof," said Tennekoon, pitching in to clarify, "Now a customer can directly address the key executive in charge. Since they are well trained in the job to not only provide services but also advise owners of after care, Ford customers can now feel justified in their decision to purchase a fine piece of engineering, knowing that Future Automobiles stand ready to support them with world class after care every step of the way!"

The Ford Service A-Team is headed by Chief Technical Officer and Head of After Sales, Ranjith Mahadurage. He is a Certified Automotive Engineer (UK) and Associate Member of the Institute of Motor Industry (UK). He counts over a decade of experience both internationally and locally, working with premier European and American vehicle brands. Combining his global expertise with an incisive view of local requirements, Ranjith ensures his team delivers diligent and skilled service to Ford customers.

'Ford vehicles are top of the range in terms of safety, reliability, comfort, performance and environmental responsibility. The engineering and design of the vehicles are among the best in the industry, and we seek to maintain this through superior service', states Ranjith.

Future Automobiles recently concluded a Service Campaign for its customers, from 1 to 10 December, a 100% free lubricant service including engine oil, oil filters and labour and free inspection of the customers' vehicles, as well as attractive special discounts on spare parts.

'The service campaign highlighted our dedication to customer service and internationally benchmarked levels of technical expertise and service, while giving our customers the opportunity to experience the benefits of being a Ford vehicle owner', stated Tennekoon.

Additionally, Future Automobiles is set to commence the Ford Loyalty Card Program offering customers many benefits in January 2016.