With more and more vehicle owners embracing clean car technology and opting for electric vehicles, the need for more infrastructure in the form of charging stations has become a real demand and necessity.

Bringing in new and standardised charging stations is 'EV Point', one of the most innovative, multi-standard electric vehicle (EV) recharging station networks to be introduced to Sri Lanka. With intelligent, cutting edge 'Rapid Charging' technology, 'EV Point' give users a new, unique experience of re-charging EV's in less than 20 minutes. These EV Point stations are seamlessly integrated with instant NFC (Near Field Communication) payment capabilities enabling EV drivers unrestricted zero emission driving throughout this country.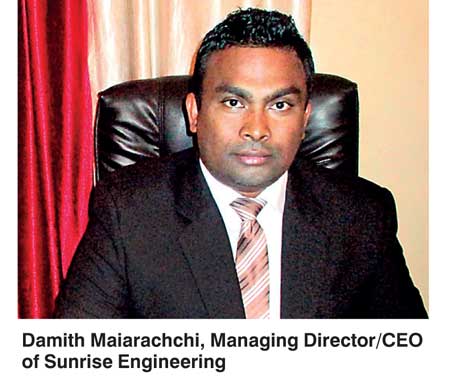 The first deployment of three rapid charging stations has been identified at strategic locations: Negombo, Pilimathalawa and Pinnaduwa, which will go live next week. The company is also in the process of installing three more in Colombo, Pelmadulla and Dambulla in the next six months.

Damith Maiarachchi, Managing Director/CEO of Sunrise Engineering, the company behind 'EV Point' said, "For the first time EV owners can have the convenience and the opportunity of recharging their vehicle in the time it takes to drink a cup of tea. Along with the speed, our internationally approved and standardised machines and payments processes will add value to users and their vehicles."

Maiarachchi said that locations have been identified with the objective of eradicating the perceived 'Range Anxiety' among EV drivers and strategically placed within a radius of 130-150km from each 'EV Point' quick recharging station.

'EV Point' stations are equipped with 'Veefil' the world's most technologically advanced Rapid Charger for electric vehicles currently available in the world.

This award winning, multi-standard Rapid Charger enables and supports all EV models widely available in Sri Lanka to obtain a safer, quicker and cleaner re-charge with no impact to the efficiency or the performance of the vehicle. Sunrise Engineering is the exclusive distributor for Veefil in Sri Lanka.

Making this endeavour possible are strategic partners EWIS who will provide the hardware for the first deployment, and SLT Mobitel, the communications network integrating partner. "Together we are confident that we can shape the future of our transportation industry by encouraging EV adoption, as well as move away from fossil fuel, switch to renewable energy sources and thereby create de-carbonised, sustainable, cleaner cities for our future," stated Maiarachchi.

"This technology has been approved by almost every EV manufacturer in the world including the Japanese CHAdeMO type EVs as well as SAE CCS Type EVs," assured Maiarachchi.

He added that EV Points are internationally certified with UL Certification, CE Certification, CHAdeMO Certification, IEC Certification, IP 65 Nema Type 3R Certification and ISO /IEC 15693 and ISO/IEC18000-3 Standards.

These unmanned 'EV Point' stations are fully integrated with the latest NFC payment mechanism. This is the first of its kind in the world where NFC payment mechanism is used for online, instant payments for EV recharging. The payment platform is also supported by instant transaction confirmations via SMS sent to EV user's mobile number.

"Apart from addressing this critical need and providing an intelligent re-charging solution for Electrical Vehicles, we are also creating de-carbonised, sustainable, cleaner cities in the future. We are excited and eager to see how Sri Lanka will be the trend setter for such charging system globally for all EV users," said Maiarachchi.