Douglas and Sons Ltd. popularly known as DSL, was appointed as authorised distributor for Philips Automotive Lighting with a grand launch at the Kingsbury Hotel recently.

DSL Chairman and Managing Director Saroj Perera received the certificate of Authorised Distributorship from Lumileds Managing Director Rajiv Khosla. 150 DSL best auto parts dealers were present at the event.

Philips is the world's leading automotive lighting manufacturer and is renowned for its technological innovations, its use of high-quality materials and its best-in-class products. Since 1914 their passion has been to increase safety through meaningful innovations that enhance people's lives on the move, making their drive safer and more comfortable. Their technological innovations have been on the forefront of automotive lighting for more than 100 years and have led to the advancement and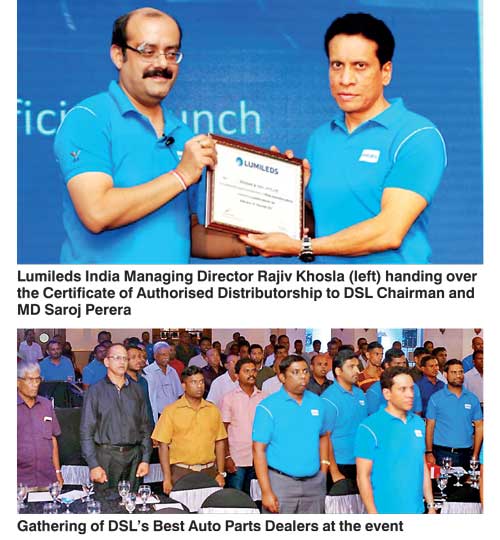 modernisation of automotive lighting as we know it today. Philips commitment to provide the highest quality standards makes it the preferred partner of the world's largest car manufacturers. Philips Automotive lighting range is a family of lighting solutions designed for the needs and lifestyles of all consumers.

Philips has a wide range of lighting which can be classified into safety and style products based on the performance and output adopting the need and lifestyle of the consumers.

From the first headlamp to state-of-the-art LED technology, Philips goal has been to make driving as safe as it can be. The products developed are designed to offer drivers the maximum visibility on the road. With increase of headlamps' light output and the clarity of the beam, not only can drivers see better, they are seen better too. Philips products are designed to increase driver safety and when you see more you have more time to react to hazards. Safer vehicles with improved lighting really do make a difference. That's safety you can see.

In Safety product range Philips world renowned and Proven Xtreme Vision Range were launched that produces 130% more brighter light compared to the standard lamps which enhances the safety of the road users with better visibility during night times.

Today's drivers are not only looking for more safety and reliability, they're looking for more performance and style. They want to fully customise their ride with their own unique look while staying safe. With our Style range with its intense xenon-white effect we provide maximum white light that gives the vehicle clean and powerful look. This premium driving experience has been now extended to LED bulbs with the X-treme Ultinon LED.

During the event in Style Range White Vision and Diamond Vision Halogen Lamps and H4 LED Ultinon Lamps were launched, which produces bright and white light compared to standard Halogens.

The technology development and quality of Philips products have been tested at the Philips GMBH Innovative Technologies, which also houses its Research and Development Centre in Aachen, Germany. Philips automated production lines with its quality assurance system ensures constant product development and improvement to Philips lighting bulbs.

Khosla stated, "According to statistical data, more accidents occur during night times on an average than during the day – and that is despite having lower traffic levels. Improved lighting and better visibility help to reduce the number of accidents at night considerably. With Philips auto lighting, we are taking the development of cutting-edge lighting technologies into a whole new era. The integration of new lighting technologies is transforming automotive lighting systems and their applications, offering more design flexibility, increased efficacy, and new functionalities."

He added, "Philips caters all automotive segments lighting requirement from two wheelers, cars to trucks and buses. We have the complete range of lamps from headlight to signalling, lighting solutions which are the most reliable and powerful in the market today, far surpassing industry standards and enhancing the safety of road users in the country."

At the event, Lumileds Senior Director, Head of Marketing Asia, Automotive After-Market Blandine Devlin said, "We have a rich heritage of a hundred years in automotive lighting and we are constantly evolving to innovate all the time. The automotive spare parts markets in Asia and Sri Lanka in particular is encouraging with the rapid increase in vehicles in all three categories; cars, trucks and two-wheelers. We hope to meet the demands of these categories with product and safety awareness programs educating our distributors, distributing pamphlets, leaflets and brochures."

DSL Chairman and MD Saroj Perera stated, "Philips is a pioneer in innovation, inventing most of the innovative bulbs such as Halogen, Led and Xenon bulbs used in automobile solutions. It is commendable to state that one out of three vehicles used in the world is equipped with Philips Lighting. Philips is an original equipment manufacturer (OEM) and most major Japanese automobile light manufactures produce their bulbs under the license from Philips."

He added, "We are proud to be the authorised distributor for Philips' range of automotive lighting and with the addition of Philips Automotive Lighting solutions to our product portfolio we ensure a safe and quality product to the satisfaction of the end consumer."

Douglas & Sons Ltd. since 1980 is the founder member company of the DSL Group of Companies. With 25 years of success, DSL employs an experienced and dynamic field sales force working with 2,800 dealers and interacting with more than 2,500 garages throughout the country.