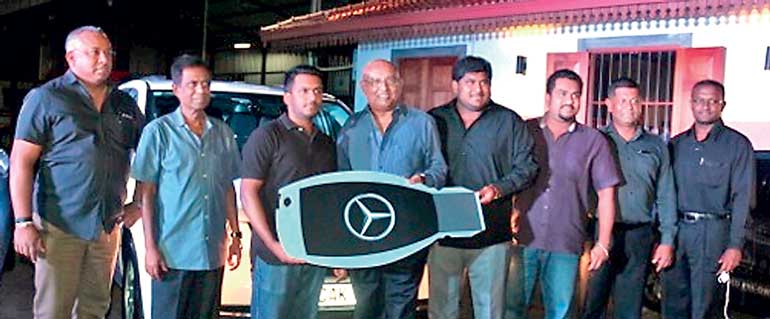 From left: Gahanath Pandithage, Dhammika Siriwardena, Rasiru Siriwardena, Ranjith Pandithage, Yasitha Siriwardena, Basuru Siriwardena, Niroshana De Silva and Lakdasa Gamalathge
'Star Experience', a series of events where Mercedes-Benz enthusiasts are invited and pampered was held at Anuradhapura. This was the eighth 'Star Experience' event organised around the country, with previous events being held at Ratnapura, Galle, Kurunegala, Kandy etc. DIMO organises these activities with the intention of introducing the latest Mercedes-Benz, Jeep, Chrysler ranges and 'DIMO Premier' (the certified pre-owned vehicles from DIMO) to different regions.

Over 40 invitees, including Mercedes-Benz and Jeep owners, Mercedes-Benz enthusiasts, potential clients and their spouses attended the event. This event was held at the DIMO branch premises at the Anuradhapura branch.

The Mercedes-Benz 2015 C-Class, 2015 E-Class, SLK Coupe, the new S-Class, the 2015 Jeep Cherokee and Jeep Wrangler Unlimited and the Chrysler Voyager Town and Country (seven-seater van) were on display at the event. DIMO also took the opportunity to introduce the latest Mercedes-Benz Citan (light van/mini MPV) to the invitees. The Mercedes-Benz Citan provides passengers with urban luxury coupled with renowned Mercedes-Benz safety features and ultimate performance. The Citan is an ideal urban transporter that provides economy, safety and luxury.

The invitees were made aware of the advantages of buying a Mercedes-Benz from DIMO, and about the facilities available at 'DIMO 800' – Mercedes-Benz Centre. The benefits of partnering DIMO, the only authorised distributor for Mercedes-Benz, Jeep and Chrysler vehicles in Sri Lanka – when buying a brand new vehicle, buying a pre-owned vehicle, or even doing servicing, repairs or purchasing genuine parts were also highlighted. Moreover, DIMO showcased a range of Mercedes-Benz and Jeep accessories at the event, providing enthusiasts an opportunity to purchase them and enhance their association with the marques.

The event also witnessed Dhammika Siriwardena (Alankulama Holdings – Anuradapura) a loyal customer of DIMO receiving his Mercedes-Benz SLK, Mercedes-Benz C-Class and Chrysler Voyager Town and Country from DIMO Chairman/Managing Director Ranjith Pandithage in the presence of Siriwardena's family. DIMO was represented by Ranjith Pandithage, DIMO CEO Gahanath Pandithage, DIMO COO – Tata Division Vijitha Bandara and staff of the Mercedes-Benz Sales, Service, and Parts teams along with the team of the DIMO Anuradhapura branch.