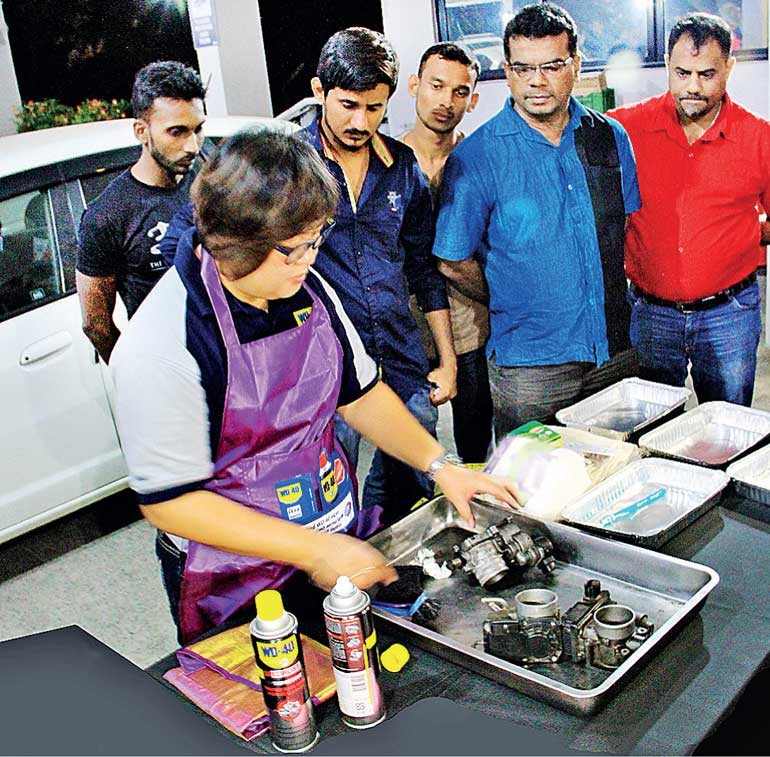 To give trade professionals the performance they need to get their specific jobs done right, WD-40 Company, maker of the trusted and versatile WD-40 Multi-Use Product, introduced WD-40 Specialist, a new line of best-in-class specialty maintenance products.

The Automotive Components Division of Diesel and Motor Engineering PLC (DIMO) officially launched their new range of WD-40, the WD-40 Specialist Automotive recently at DIMO800 in the presence of their valued dealers, customers, WD-40 Principals, DIMO Management and Automotive Components Team members.

DIMO Chairman Ranjith Pandithage welcomed the guests to the event while WD-40, Malaysia Regional Director-Asia Marcus Chen spoke about the WD-40 brand, its history and new developments. WD-40, China Product Integrity Director – R&D Quality SJ Zhen conducted the main presentation where he introduced the new WD-40 Specialist Automotive range to the audience. Vote of thanks was delivered by DIMO GM – Automotive Components and Power Tools Tharindu Atapattu, DIMO CEO Gahanath Pandithage, DIMO Director Channa Weerawardena, DIMO Director Sarath Algama, DIMO Director Vijitha Bandara, DIMO Director Chaminda Ranawana and the senior management of DIMO were also present at the event.

WD-40 Company is a global marketing organisation headquartered in San Diego California, where the original WD-40 Multi-Use Product was invented over 60 years ago. Above and beyond that legendary, signature blue and yellow can, instantly recognised worldwide, WD-40 Company encompasses a group of brands featuring a full range of high performance products. Spanning maintenance, specialty, and cleaning products for all corners of the industrial realm, enthusiasts, hobbyists and home, WD-40 Company is home to several of the world's best-known brands.

Subsequent to the presentations, live demonstrations were carried out by the Malaysian and Chinese principals on the uses of the entire WD-40 Specialist Automotive range. The invitees were treated to cocktails and dinner thereafter.

WD-40 Specialist Automotive Range is designed and introduced specially for automotive applications. The product range includes Throttle Body Carb and Choke Cleaner, Break Parts Cleaner, Machine and Engine Degreaser, and Chain Lube and Belt Dressing. More information is available on www.wd40.com and www.wd40specialist.com.