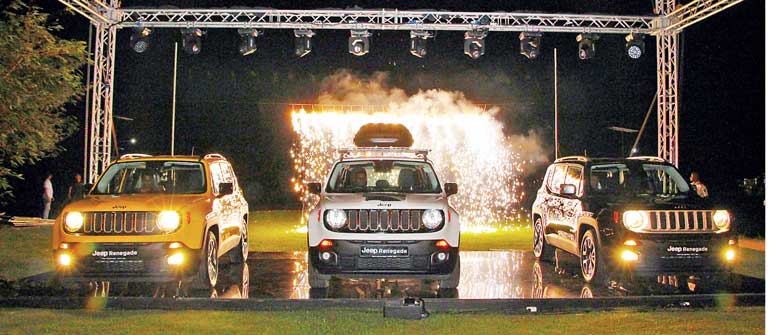 The 2017 Renegade puts a new spin on iconic Jeep brand styling. It combines great looks with outstanding capability and smart technology, all in a smaller city-friendly package.

Diesel & Motor Engineering PLC (DIMO) recently introduced the latest addition to the legendary Jeep family – Jeep Renegade at an event held at Waters Edge, Battaramulla. Jeep owners, off-road enthusiasts and like-minded individuals were invited for this event, which resembled an all American celebration.

From the iconic seven-slot grille to its strong stance, the Renegade is definitely a Jeep brand vehicle. For exploring new trails or heading out on the city, the 2017 Jeep Renegade is ready, willing and able.

Jeep Renegade puts this kind of freedom well within one's grasp, backed by authentic Jeep brand engineering and legendary style. It's about going the distance, without losing ground. It's about seeking what one intends to find, and finding something more. It comes packed with a 1.4L MultiAir petrol engine and a 9-speed automatic transmission that sets down a truly benchmark performance.

Two new and advanced 4x4 systems, Jeep Active Drive and Jeep Active Drive Low, along with a category-exclusive rear axle disconnect system, help the discerning driver to seamlessly switch between two-wheel and four-wheel drive and optimise on efficiency. The Jeep Renegade is therefore for those who seek adventure in their backyard while ensuring minimal losses on energy. This is supplemented by several easy-to-use features, all of which are geared at maximising the driver's convenience.

The Jeep Renegade also comes packed with a Jeep Selec-Terrain system, giving the driver the power to master nature in whatever form. The Selec-Terrain dial offers up to five selectable settings that deliver ultimate stability through various vehicle systems.

In terms of looks, its upright, square profile leads with a remarkably upright windshield and a vertical tailgate, together with a stylish, roomy interior and a boxy, attractive exterior. With enough head and hip room, a dual-zone automatic climate control system and leather-trimmed seats, the Renegade defines true comfort in adventure. Jeep has always stood for freedom, authenticity, adventure and passion, all of which are reflected in the Renegade's combination of spaciousness and compactness, suitably tailormade to those who seek both off-road and on-road trails.

As the only authorised distributor for Jeep in Sri Lanka, DIMO has come up to the forefront not only through its range of top-notch luxury vehicles, but also through its genuine after-sales services. These services extend to Jeep, including the 24-hour island wide roadside assistance, which is unparalleled to other competitors.

DIMO has been representing the iconic and authentic Jeep brand for more than a decade in Sri Lanka, and the introduction of Jeep Renegade, the long-awaited newest member in the Jeep family is set to carve a new, exciting path. After all whilst there are many SUVs and definitions of UVs, there will always be only one Jeep.