Daimler's Chief Executive said 'different types' of cooperation with Apple and Google are possible as carmakers realise next-generation autos cannot be built without greater input from telecoms and software experts.

"Many things are conceivable," Daimler CEO Dieter Zetsche said in an interview with quarterly magazine Deutsche Unternehmerboerse published on Friday.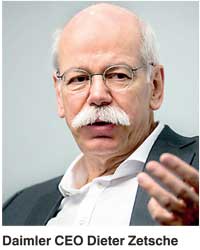 The emergence of self-driving and connected cars has made software a key component in future cars, opening the market to new entrants like the US-based technology giants.

"Google and Apple want to provide system software for cars and bring this entire ecosystem around Apple and Google into the vehicle," Zetsche said. "That can be interesting for both sides."

His comments echoed those of German rival Volkswagen, whose chief executive Martin Winterkorn has urged collaboration with technology firms to make future cars safer and more intelligent.

One option could be for Daimler to build cars as part of a joint venture by using the digital expertise of its US partners, Zetsche said, but added that his comments were 'purely theoretical'.

Zetsche said Daimler would not allow itself to be demoted to the role of dumb supplier, simply producing cars for the Silicon Valley giants.

"We don't want to become contractors who have no direct content with customers anymore and supply hardware to third parties," he said.