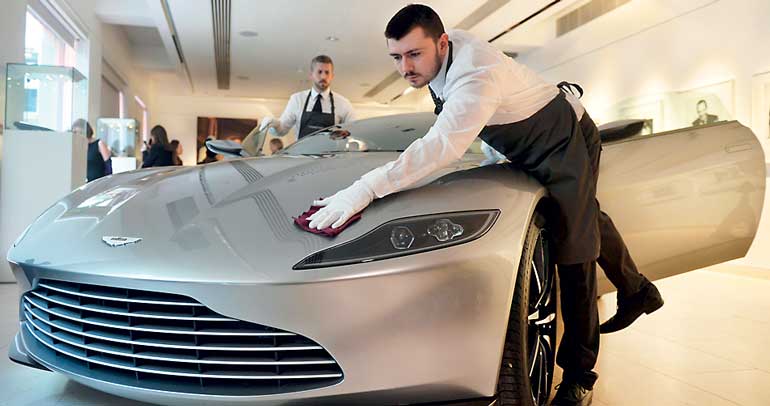 Employees polish an Aston Martin DB10, one of the series of DB10s designed and engineered by Aston Martin for the James Bond film "Spectre", during a media preview of "Spectre - the Auction", at Christie's auction house in London 15 February, 2016/File photo - REUTERS
An Aston Martin DB10 car designed for the latest James Bond film "Spectre" has sold for some $3.5 million at auction, far exceeding its reserve price.

The Aston Martin, a make long linked to the 007 agent, was one of 10 made for the movie that saw Daniel Craig reprise the famous role for the fourth time. Most were modified for filming, with two, including the one sold, kept as show cars.

Bidding for the "Spectre Silver" DB10, on offer as part of the "James Bond Spectre: The Auction" sale, lasted just under five minutes, according to auction house Christie's.

With a reserve price of pounds 1,000,000 to 1,500,000, it was sold for pounds 2,434,500 ($3.48 million).

Other "Spectre" memorabilia up for grabs at Thursday's auction included a "Day of the Dead" costume worn by Craig in the film's opening scene, which sold for pounds 98,500.

Singer Sam Smith's signed "Writing's On the Wall" music sheet and vinyl single -- the movie's chart-topping theme tune -- sold for pounds 9,375.

In total, 10 lots were sold on Thursday, raising around pounds 2.8 million, with proceeds going to charity. An online auction for another 14 lots remains open for bidding until 23 February.

"Spectre", the 24th James Bond film in 53 years, has grossed some $879 million at the box office worldwide since its release in late October.