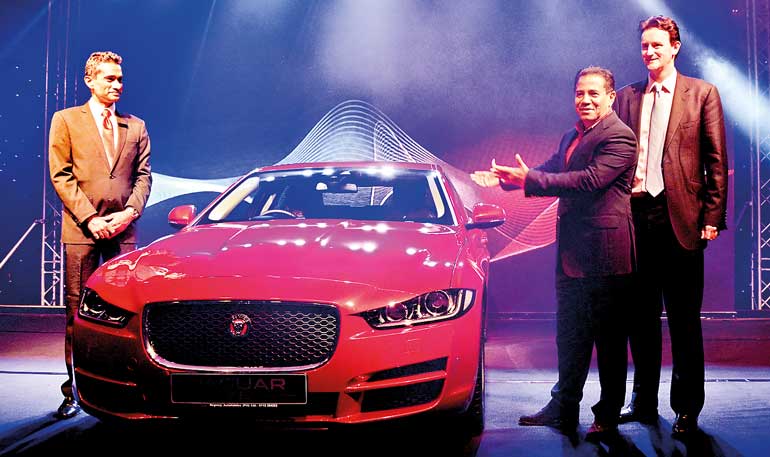 IWS Holdings Chairman Arthur Senanayake (2nd from right) WS Holdings Automotive Sector Chief Operating Officer Sujeeva Premaratne and Guava International Limited Chief Operating Officer Rupert Lyon Taylor at the Jaguar XE Launch - Pic by Upul Abayasekara
​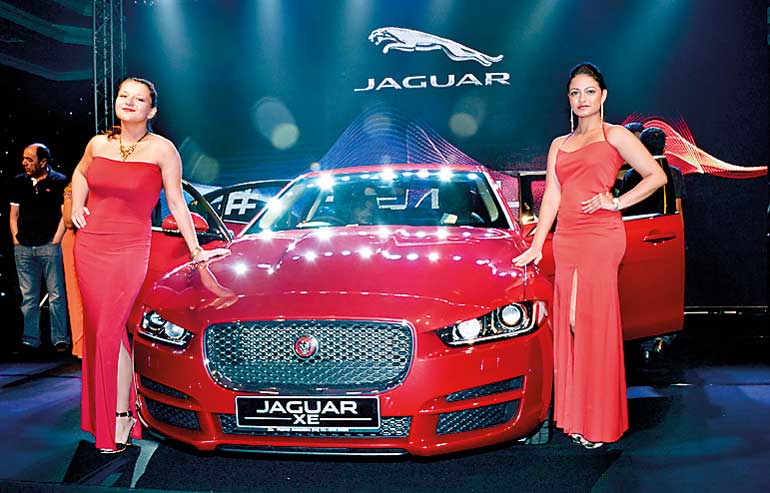 Regency Automobiles Ltd., the official Jaguar importer in Sri Lanka, last week launched the new Jaguar XE at The Hilton Colombo.

The fourth model of the Jaguar product line, the all new XE, redefines the concept of the sports saloon and will be the driver's car in its class. Its lightweight construction, streamlined styling, luxurious interior and outstanding ride and handling are testament to company founder Sir William Lyons' vision: 'The car is the closest thing we will ever create to something that is alive'.

Regency Automobiles Ltd. Chairman Arthur Senanayake stated, "Jaguars have been renowned for a balance of precise handling and luxurious comfort. With the arrival of the all new Jaguar XE, we are excited to offer the most advanced sports saloon with the latest lightweight aluminium construction to the Sri Lankan market."

The XE is powered by a four cylinder petrol engine, and a rear wheel drive power train offering a blend of performance, refinement and efficiency from 170g/km, CO2 to 250km/h. The engine benefits from direct injection, variable valve timing and boosting to deliver clean, quiet combustion and exceptional throttle response. Power is sent to the rear wheels through smooth-shifting 8-speed automatic transmissions.

The XE is equipped with a turbocharged, direct-injection, 2.0-litre four-cylinder unit, which made its debut in the Jaguar XF and XJ saloons. Further refined for the new XE, this distinguished lightweight power plant, delivers 200 hp and catapults the vehicle from0-100km/h in 7.7seconds.The aluminium-intensive Jaguar XE is the first model developed from Jaguar Land Rover's new modular vehicle architecture.

Jaguar is launching the new XE with an equally new engine family – Ingenium. This advanced modular design will provide petrol derivatives a clean-sheet to deliver performance, efficiency and refinement without compromise.

The cabin offers outstanding levels of comfort and spaciousness. Exquisite materials and finishes combined with Jaguar craftsmanship make this a class-beating interior that's unlike anything else in the segment. Jaguar's new innovative 8-inch touchscreen brings fast, intuitive access to all features and functions.

The XE has some of the most advanced driver assistance systems available. All Surface Progress Control (ASPC), developed through decades of Jaguar Land Rover experience in off-road traction systems, can electronically gain traction in seconds and is ideal for use on low-grip surfaces, such as snow-covered roads. Laser projection technology enables the XE's head-up display (HUD) to generate sharp, high-contrast colour graphics (such as vehicle speed and navigation) from a module smaller and almost a third lighter than existing systems, retaining clarity even in direct sunlight.

The XE is the most aerodynamic Jaguar saloon car ever built. It is also the first Jaguar to be equipped with electric power steering, tuned to provide exceptional responsiveness and feel but with lower energy consumption than hydraulic systems. The XE also boasts the lowest cost of ownership and most environmentally sustainable credentials of all Jaguar models. The XE now completes the Jaguar saloon car range, sitting below the XF and XJ model lines.